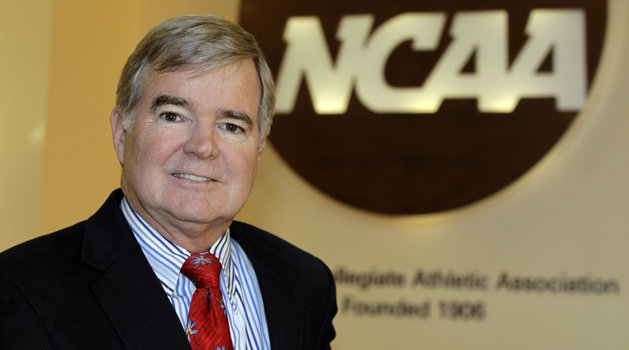 By Matt Norlander
Some of the most powerful people -- university presidents aside -- in college athletics met Monday in a town named Grapevine. To call that location and appointment apt is to fail to give it enough credit.
The men and women were there, in Texas, for their annual
meeting/leadership conference
. And when given the microphone in front of those who matter most to him, Mark Emmert did not hesitate to criticize. The NCAA president took the opportunity at Monday's get-together to essentially scold athletic directors who've been all too eager to swap conference affiliations. In this arena, Emmert is powerless, so his words (not even threats, just words) are all he has, and even those were most likely washed down by the time lunch arrived.

The Chronicle of Higher Education reported
Emmert's "lecture" from Monday.
"People today have greater doubt, greater concern about what we stand for and why we do what we do," Emmert said to a packed room of athletic directors and faculty athletics representatives, who have all gathered here for their annual meetings. "And that is a huge problem for us. The specter of the past couple weeks of conference realignment has not been a healthy thing. ... The world's convinced that's all we care about ... that all this is about money. I didn't read many of us stepping up and saying that this will work really well for student-athletes because we'll do X, we'll do Y, it will create more resources, it will help us stabilize our programs."
In face of those who're changing the kingdom he cannot preside over, Emmert did his best to dress down the culture-shifters and tradition-killers. Picture a 15-year-old attempting to dictate behavior at a frat party and you've basically got a similar situation.
But there is change coming in college athletics Emmert is related to. In October, many rule-changes will be voted upon. These range from phone-call and text-message rules, to big-picture fundamental principles, like cost-of-attendance scholarships, and how universities can evolve by affording players more money without technically paying them to play intercollegiate sports. It's been a crazy past eight weeks in college sports. October could be just as big, even if adapting new rules and obliterating old ones doesn't grab you like Texas A&M giving the middle finger to Texas and the Big 12.
"The confusion and disruption of the conference realignment adds to, doesn't detract from, our ability to get these things done," [Emmert] said. "Because, candidly, I think we were all embarrassed by some of that behavior, and here's our chance to show what we really care about."
It's Emmert's job to spew sentences like that last one above. There are plenty -- especially the ADs representing the dozens upon dozens of schools not involved in realignment -- of people that agree with Emmert. But that's not going to stop the big boys from shifting away from where they've been for the sake of ego, survival, more money and new opportunity.
For all Emmert's diligence in trying to get a house he does not own in order, it's likely today's speech didn't upset the applecart. Rather, he cursed its bloated presence as it whizzed by, ignoring Emmert and the errenous sense of power he's been given by those who undermine his fermenting mission.
Photo: AP