By Jeff Goodman
Tyler Hansbrough, in preparation for the NBA lockout, has spent the entire offseason in Chapel Hill.
Unlike a year ago, the Indiana Pacers forward is healthy.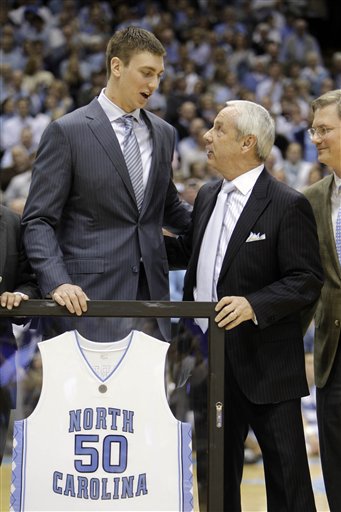 "Last year and this year are totally different," said Hansbrough, who wasn't able to do anything a year ago prior to the season. "Last year I sat out pretty much the whole year."
Hansbrough, who is living with Bobby Fraser in Chapel Hill, has been able to get an inside look at this year's North Carolina Tar Heels group - which has been tabbed by many as the preseason No. 1 team in America.
Here are a few thoughts:
- The player who has impressed him the most? Freshman P.J. Hairston. "I'm really high on him. He's way more athletic than I thought. He can really shoot it and he's exactly what we need. If he can play defense ... I'm a little worried about his defense."
- On Harrison Barnes: "When he first came in last year, he forced some shots and you could tell that he felt as if he had to do things himself. Now he's more relaxed, he's smooth instead of forcing things to go his way. He's letting the game come to him. ... He's just not one of those guys who is going to blow you away, though, and take over a game. He's just smooth in how he does it."
- On Kendall Marshall: "He's not the most athletic guy, but he's really good at what he does - passing the ball and getting the ball to people in the right spots to score. He's just very smart about the game and can really find people ... and he never seems to get rattled."
- On who are the leaders of this team: "I'd say Kendall. He's a vocal guy and tells his teammates what they need to do. I think (Tyler) Zeller leads by example, kind of like I did when I was there, but he isn't as vocal."
- on John Henson: "He can really rebound and block shots. He's still improving his offensive game - and it's still a little raw. He's definitely put time in the weight room, but John's never going to be a physical guy. That's just not his game."
- On freshman James McAdoo: "I really like him, I think he's got a chance to be really good. I want to see him develop a few moves. He needs to get a feel for the system. I don't think he's ever played in an up-and-down pace like what Coach Williams runs. I think he'll be a big-time player, but it may take until the middle of the season for him to break out."
- Hansbrough said that former teammate Bobby Frasor, who played overseas last season, is leaning towards trying to getting into coaching.
Photo: AP