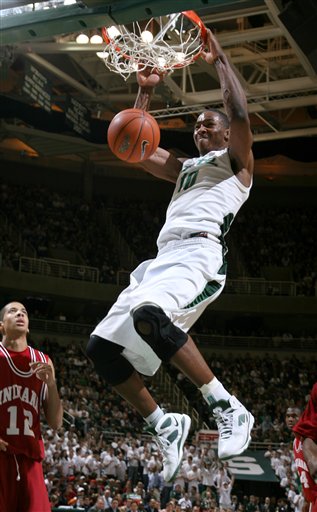 By Matt Norlander
Delvon Roe, a senior forward at Michigan State, is retiring from basketball because chronic knee issues have made playing the game too problematic. He's had problem with both of his knees, but primariliy his right one, which required microfracture surgery during his senior year of high school.
The school announced Roe's decision late Thursday afternoon.
"This is the hardest decision I've ever had to make," Roe said in a press release. "It feels that I've been playing through pain throughout my career at MSU, but the daily grind of basketball -- the running, cutting, jumping -- has finally taken its toll given the intensity required to play at our level. I started playing basketball because I loved the game, but the pain has taken that away and forced me to always think about just getting through the next few minutes or the next game. I don't want to just 'get through' anymore. I've played on a leg and a half for most of my career, and that's not fair to my teammates as they go through the daily grind."
Roe started all three years while at Michigan State. He helped the team win two Big Ten titles and reached the Final Four in 2009 and 2010.
"I will always be a Spartan," Roe said. "It remains my goal to walk across the court on senior night."
Roe has already
begun to put his time into other endeavor
s, acting being the most prominent.
He earned a role in the independent film "AWOL,"
and shot his scenes over the summer. He's made it clear he hopes to have a future in the movie industry.
"We've built our program at Michigan State on toughness, and I've never had a player who played through more pain than Delvon," head coach Tim Izzo said in a statement. "It's a shame that most Spartans never got to see the player I recruited. ... Last year, he unselfishly reinvented himself into a defensive stopper that the team needed. For him to call it a career at this time shows the severity of his pain. I look forward to having him remain around the program this year as he finishes his degree."
Roe was considered a top-20 recruit in 2008. He averaged 6.1 points and 5.1 rebounds in his three years with the Spartans.
Photo: AP