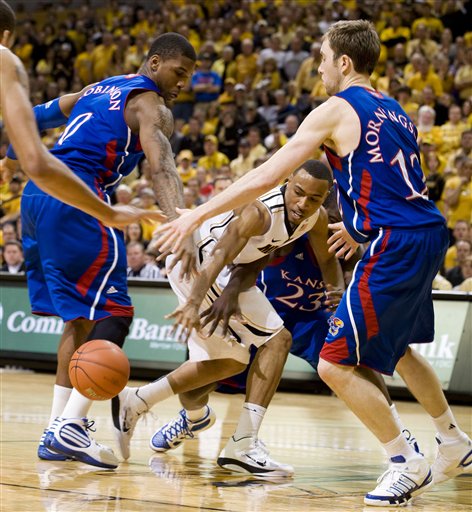 By Matt Norlander
Tuesday night,
Missouri's board of curators gave the school chancellor, Brady Deaton, full permission to flirt with other conferences
. This is considered a major step, one that many see ending with Missouri landing on SEC property.
Meanwhile, the Big 12 continues to watch as the value of its land drops and drops.
Kansas City is a shell of its former self
. Missouri leaving would get the league down to eight teams, and that point the Big 12 would have to do some swift pillaging or merging with another league.
Because Missouri wants out, feelings within the Big 12 are going to be fiery, and there's bound to be some serious grudges. Kansas has a right to hold the biggest one. Its longtime rival leaving the clan to join the SEC could put an end to the on-court feud that's been going on for 104 years.
Kansas is the better basketball school --and it leads the series with Missouri, 171-94 -- but the rivalry with Missouri is one of the best the nation has to offer. If the Tigers choose, and are accepted, to go to the SEC, the rivalry could die. Just ask Bill Self. The
Lawrence-Journal World asked Self
what his thoughts were on Missouri's instability, and he said:
"To me it's a great rivalry, one of the best in college basketball without question, but I don't think I would be interested in having a once a year game like I did when I was at Illinois, playing Missouri," Self [said]. "I could probably change my mind (but) trust me, we would have no trouble finding another nonleague game to play. I love the rivalry. Playing home and home in the league is great and all those things ... (but) I can't imagine, why would we continue playing?

"If they choose to be somewhere other than with us and with the other schools that they've been a part of and could jeopardize the future of the other schools ... I'm not going to make a commitment now that we'd ever play again. I'm not saying we won't. I'm certainly not going to pretend that we would."
Even though coaches have as much to do with realignment as me or you, they do control most of the scheduling. And if Self doesn't want to slate Missouri in basketball going forward out of spite, he has all the power to do that. What's more, he'll likely get a lot of support within his athletic offices and around the league. Nebraska's already been ex-communicated from the conference after it got a whiff of what the Big Ten was cooking and decided to bolt.
Self added last night: "The media is not going to dictate who we play."
And that might as well be addressed to the fans too, who, when it comes down to it, might not be happy that Kansas and Mizzou are breaking apart -- but they'll still want an annual game. For the record, Kansas' AD has done the obligatory and said
he wants Missouri to stay put
.
"I have no ill will toward Missouri at all, but to do something at a time that could be so damaging and hurtful to a group, I can't see us just taking it and forgetting," Self said. "They are making a decision that's best for theirs. We'll make a decision on a schedule that's best for us."
Self is just lobbing out bombs, and I love it. I love contention and true nastiness in rivalry. The irony here is, the angriest aspects of this feud could be coming in its final years of existence. Kansas basketball, as great as it is, is a non-factor in the Big 12's future. So Self is pretty much playing the only card he can here.
"We will do what's best for us from a scheduling standpoint," he said. "And that will create absolutely no controversy at all."
Meanwhile, that's just not true. Missouri isn't even officially out of the Big 12 yet -- and may never leave -- and this is already going to be among the biggest talking points at both schools. If Kansas and Missouri break apart, college basketball loses one of its oldest continuous rivalries, one that dates
back geographically and historically to the Civil War
.
Photo: AP