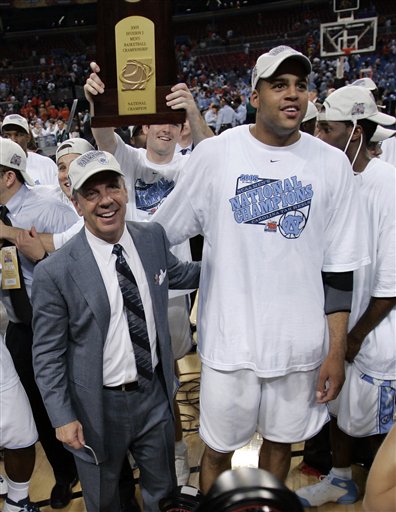 By Jeff Goodman
Sean May doesn't even think there's a debate.
North Carolina's national title team in 2005 or this year's Tar Heels group?
Take your pick.
My colleague, Gary Parrish,
wrote about that notion in a column
recently -- and we continued the conversation
on our weekly podcast
.
"It's not even close," said May, reached Wednesday morning in Croatia. "Overall, talent-wise, I think we were better."
I'd tend to agree with May, although it's hardly a no-brainer.
For a full perspective, here's the comparison between the two teams:
2004-05
SG - Jackie Manuel
PG - Raymond Felton
SF - Rashad McCants
PF - Jawad Williams
C - Sean May
F - Marvin Williams
F - David Noel
G - Melvin Scott
G - Quentin Thomas
2011-12
SG - Dexter Strickland
PG - Kendall Marshall
SF - Harrison Barnes
PF - Tyler Zeller
C - John Henson
F - James McAdoo
G - P.J. Hairston
G - Reggie Bullock
Williams (2), Felton (5), May (13) and McCants (14) were all taken in the lottery after winning the national title in 2005. Noel was selected in the second round the following season. This year's Tar Heels team could well have four players taken in the lottery as well: Barnes, Henson, Zeller and McAdoo. Marshall could also find his way into the first round, according to multiple NBA executives.
Hairston and Bullock -- with their size and ability to shoot the ball -- both have a chance to play in the league as well.
"Obviously, Harrison is really good," May said. "John is still a little raw. He's a great player, though. We had more talent on our team. Our most talented player, Marvin, was coming off the bench."
"Rashad would give Harrison a run for his money," added May. "And while Kendall is great, you can't even bring that conversation to me between him and Ray. I played with Ray and he made me the player I was in college."
However, what may have separated that 2005 team was the "role guys." Jaward Williams was a veteran who came to understand his place on the team and Manuel was a terrific defender who could have cared less about scoring.
Can McAdoo accept his this season as a supporting guy, an energy guy coming off the bench. Will Strickland continue to develop into that Manuel-esque role and be able to run the team when Marshall is out of the lineup?
"They've got a lot of talent," May said. "But we had more."
Photo: AP