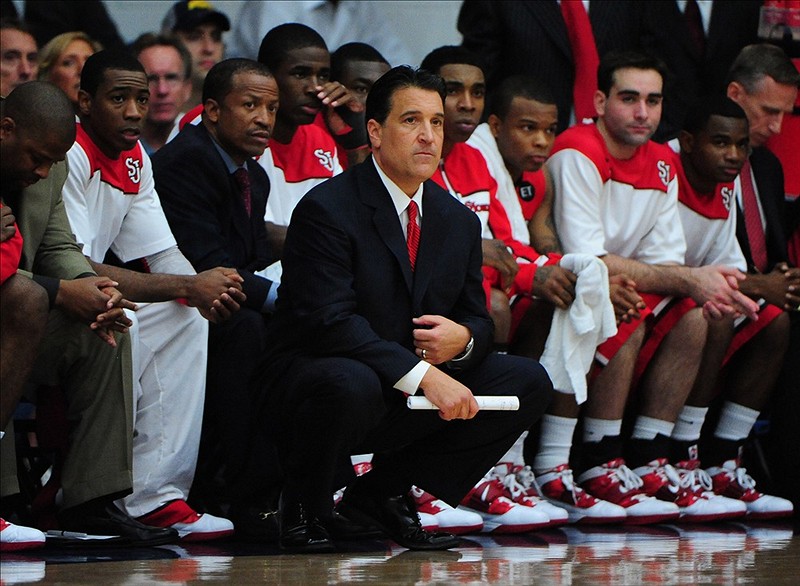 By Matt Norlander
The biggest win of Steve Lavin's life should hopefully come on Thursday. The St. John's coach,
who in April announced
he had been battling prostate cancer since the fall of 2010, will have surgery to eliminate his prostate cancer.
Lavin will go under the knife at Memorial Sloan-Kettering Cancer Center, one of the elite treatment centers in the world. It's primary location, where Lavin will have his surgery, is in Manhattan. He's expected to return to coaching after an undetermined "recovery period." That could be a week, could be a month -- until the surgery is complete, no one really knows.
But that's not an issue right now, of course. Getting Lavin cancer-free is the target, and it's an extremely optimistic one right now.
"The advantage of early detection is that we were afforded the time to research all options," Lavin said in a statement. "After weighing treatment options with the experts at Sloan we have decided surgery is the best path to take for my particular prostate cancer condition. We are confident that this course of treatment will lead to a cancer-free life."
Peter T. Scardino, the Chairman of the Department of Surgery at the Memorial Sloan-Kettering Cancer Center said, "It is highly likely that this treatment will completely cure coach Lavin's condition."
According to St. John's, Lavin helped to raise more than $1 million for Coaches vs. Cancer since he became head coach of the team in March of 2010. He's also been a longtime contributor and supporter of the charity. And recently, Lavin and the program brought out more than 400 people for their "Dribble For The Cure" fundraiser on Sept. 24.
Photo: US PRESSWIRE