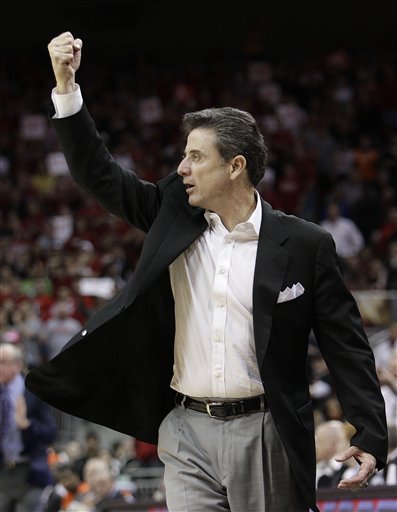 By Jeff Goodman
It was only a matter of time.
Just a few days after Kentucky coach John Calipari's verbal jab directed squarely at Pitino and Louisville, the Cards' head coach fired back.
"Four things I've learned in my 59 years about people," Pitino told CBSSports.com on Wednesday. "I ignore the jealous, I ignore the malicious, I ignore the ignorant and I ignore the paranoid."
"If the shoe fits anyone," he added. "Wear it."
Wow.
To refresh your memory, here are Calipari's comments earlier in the week in
which he purposely omits Louisville when talking about programs in the state of Kentucky
.
"It's a unique thing," Calipari said. "There's no other state, none, that's as connected to their basketball program as this one. Because those other states have other programs. Michigan has Michigan State, California has UCLA, North Carolina has Duke. It's Kentucky throughout this whole state, and that's what makes us unique."
This is why the Kentucky-Louisville rivalry currently has no peer in college hoops.
At least while Pitino and Calipari run their respective programs.
It edges out the one with closer proximity down in Tobacco Road between Duke and North Carolina. Not due to the hatred between fan bases, because that exists at a similar level in Bluegrass country.
But because of the hatred of the two coaches who run the programs.
Duke's Mike Krzyzewski and North Carolina's Roy Williams aren't exactly partners, but those guys are buddies compared to Calipari and Pitino.
Louisville Courier-Journal
columnist
Rick Bozich touched upon Calipari's jealousy in a column this morning
and there's certainly some merit to his points.
It's no coincidence that Calipari accepted the job to coach the Dominican Republican national team shortly after Pitino agreed to (and later decided against) coach the Puerto Rican National club.
Calipari is envious of the fact that Pitino won a national championship.
Calipari is brash -- and even his closest friends in the business will tell you behind closed doors that he'll turn on anyone. I mean, think about the fact that Pitino was a key proponent in Calipari getting the UMass job years ago.
But that is ancient history now.
Pitino is nearing 60 and doesn't care what he says or who he offends these days.
A year ago, his team was over-matched talent-wise by Calipari's Wildcats. This year, although Kentucky remains loaded due to another stellar freshman class, the gap has closed significantly.
The two coaches will square off on New Year's Eve.
This makes for terrific theater, so grab some popcorn and enjoy the show.
Because it's not going to last forever.
Photo: AP