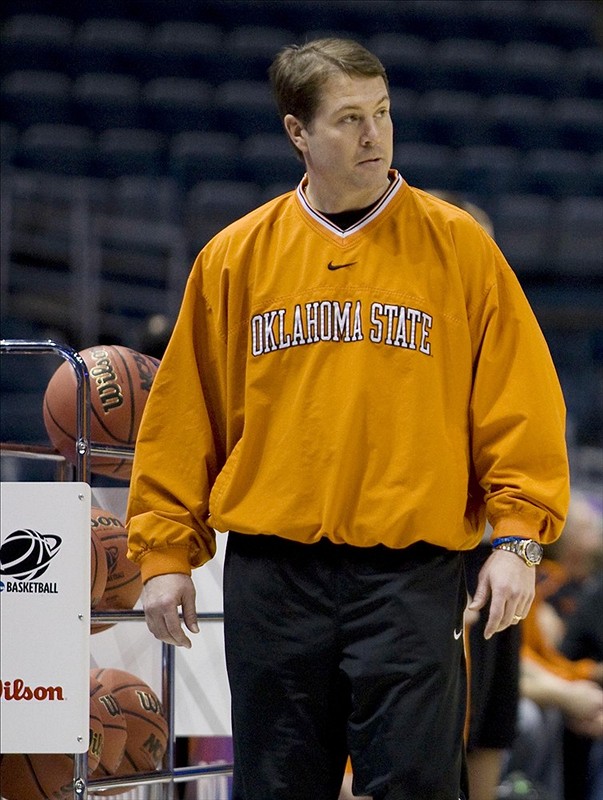 By Matt Norlander
Pardon my barb, but Oklahoma State coach Travis Ford must be a bit delusional when he's saying sentences like this one: "Everybody might be wanting to join us."
By "us" he means the Big 12, and by "everybody" he pretty much means Cinci, Louisville and West Virginia. All possibilities and good additions in hoops to the league. (But
what to make of this Big East news
, breaking today?) Nevertheless, Ford speaks on behalf of basketball, as if it's got one finger in the say of what programs go where.
"Boy, you're talking about an unbelievable basketball league. Just a ridiculous, ridiculous basketball league," Ford said.
A good league. Maybe even very good, depending on the year, and depending on Kansas' national-title prospects. Ridiculous? That's ridiculous.
University presidents and chancellors are not pulling the trigger on inter-conference movement because of the quality of Big 12 basketball. These are moves made with football in mind and will only be made if Missouri makes a degrading statement on the state of the Big 12 by leaving it for the SEC.
Ford
spoke to the AP's Jeff Latzke over the weekend
, and he sounded downright giddy over the Big 12's survival and imminent dominance that's sure to arrive, at least in his mind.
I think from different teams that I'm hearing and the possibilities, we could have went from a league that was folding to now one of the stronger leagues at the end of the day," he said.

He's personally glad Oklahoma State didn't end up moving to the Pac-12 as part of a package deal with Oklahoma and possibly Texas and Texas Tech.

"I am for definitely staying in the Big 12 and I wasn't overly excited about going west," Ford said. "I think the time change could have really played havoc on many levels — game times starting, your kids' body times, getting back time and just everything."

Ford said he believes a lot of the changes are based on football, but noted the Big 12 has top basketball programs.

With the names floating around, it could only get stronger," he said.
It still wouldn't be as good as the ACC overall, and the Big Ten could put up a good argument. Not to mention there's a chance the Big East could have a league just as strong, depending on how it reacted to losing those three schools. (If it kept Connecticut and went after Xavier and the like, the Big East would still be plenty formidable.)
But Ford's at one of the most historic basketball schools out there, and he's thrilled to be in a conference that's 10 times more stable than it seemed to be even a month ago. If Missouri goes, most believe the Big 12 is in good position to be even better, to move up to 12 teams. And in that instance, Ford's right: the conference is fat and healthy and better than it was before, when Nebraska and Colorado were paying rent to live in the basement.
But this isn't a league that's going to be elite, and it's not a place where tens of schools are suddenly urging to enter.
Photo: US PRESSWIRE