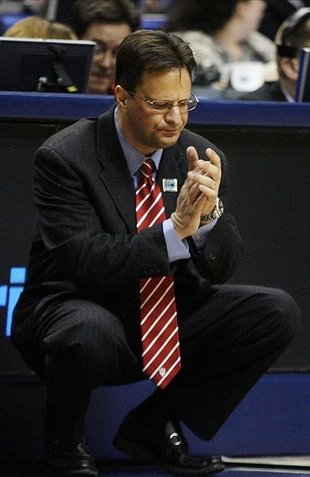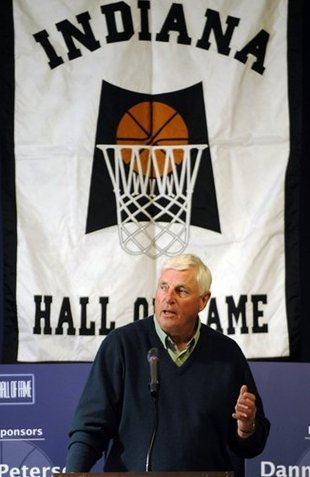 By Matt Norlander
For Indiana, the upcoming basketball year signifies something special: the 25th anniversary of the '87 title team. It's the squad that won a championship in one of the most dramatic ways in the sport's history, thanks to
Keith Smart's floating 17-footer
in the closing seconds against Syracuse in the Superdome. It's also the last Indiana team to win a national championship in men's basketball.
That group was coached, of course, by Bob Knight, who won three titles for the cream and crimson in his 29 seasons there.
The school plans to honor that team at some point this year. The details and dates have not been finalized yet. As of now, there are no plans for Knight to return to campus and partake in the celebration. Current Hoosiers coach Tom Crean would love to change that.
"I would hope Bob Knight knows he has a 365-day invitation to come back," Crean said by phone. "For him to come back, that's totally up to him. I wouldn't hesitate in welcoming him back -- there's no question about that. And if we knew he was coming back, I'd be running out there opening the doors."
Crean has coached Indiana since 2008. He was insistent about his willingness and eagerness to bring Knight back to the place that embraced him, faults and all, throughout his dramatic coaching tenure in Bloomington.
Ever since Knight was fired in 2000 by former Indiana president Myles Brand, a frost has thickened between he and the school. Two years ago, a
dispute over $75,000
owed to Knight by the Indiana University only emphasized the schism between the Hall of Fame coach and one of the bluebloods of college basketball -- two circumstances that may have never come to be without the pairing of each other.
Reunions aren't something Knight is allergic to. In January,
he returned to Ohio State
-- where he played basketball from 1959-62 -- for just the second time outside of his coaching career.
Ohio State will honor Knight this season
during a Dec. 20 game, when his son, Pat, coaches his Lamar squad against Thad Matta's Buckeyes.
As for Indiana, it's going to take much more than Tom Crean's open invitation to get Knight back to the school. But who better to blast the "COME BACK, BOB" message than Crean? In order for the '87 team to truly get its proper celebration at some point this season, the coach of that team must be there. For that to happen, egos must be inhibited, grudges tossed aside and Bob Knight, who will soon be 71 years old, needs to muscle up and bury the hatchet.
Photos: AP, US PRESSWIRE