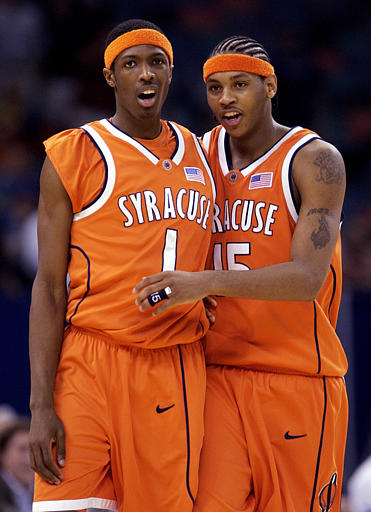 By Matt Norlander
From laughingstock to legitimacy. Syracuse's initial Midnight Madness event included someone from the Jersey Shore I've never heard of and Tone Loc, last seen as relevant around 1993. But the university responded to the underwhelming response from fans by ditching on both of those "entertainment" acts and has instead opted to do
the best thing possible.
Seriously -- the best thing possible. Carmelo Anthony, Hakim Warrick, Wesley Johnson, Pearl Washington, Derrick Coleman and a slew of other former Orange and Orangemen will play in an alumni game Friday night at the Carrier Dome. This kind of opportunity is practically once-in-a-lifetime, considering most of these guys are still in or near their physical primes and unable to be with their NBA teams during the ongoing lockout.
Borzello's heading up to central New York Thursday, and I'm telling you he doesn't deserve this kind of treatment.
But the SU fans do. It's going to be great. Whan an upgrade. The Dome -- which is definitely one of the best places in college hoops to catch a game -- will be electric.
The Post-Standard reports
:
Ed Levine, CEO of Galaxy Communications, confirmed plans for the game on Tuesday.

"It's going to be spectacular,'' Levine said. "It's the greatest collection of Syracuse stars ever. And the fact that Midnight Madness is part of ESPNU's national broadcast is going to put Syracuse basketball in the national spotlight.''

Levine said several of the former Syracuse players would take part in autograph and photo sessions from 7 to 8 p.m. The legends will be divided into teams and will participate in a 10-minute scrimmage.

Members of the current coaching staff, including Gerry McNamara, Lazarus Sims, Mike Hopkins and Adrian Autry, might also take part in the legendary scrimmage.
You've gotta get McNamara out there; he's definitely got some long bombs left in him.
What a 180 for SU athletics. These Midnight Madness things can be overblown and not really mean all that much for fans, but when a school has heritage and a breed of pros like SU, capitalizing on this opportunity is optimal for all involved.
Photo: AP