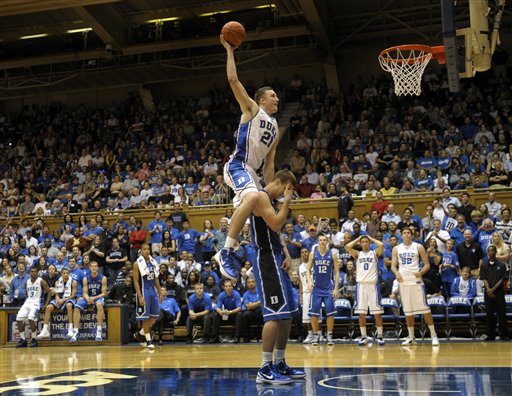 By Jeff Goodman
After shuttling between North Carolina and Duke for a couple days on Thursday and Friday, I took a break from my annual Midnight Madness road trip for a family function down in Florida over the weekend.
Now it's back on the road, with the first stop coming today in Columbus with Ohio State.
I'm going to catch Buckeyes practice, may even take a charge from Jared Sullinger and will also give Aaron Craft an opportunity for redemption after
his singing exhibition a year ago
.
But before I move forward to the Buckeyes, let's still flip back to Tobacco Road.
Here's my column (and video)
of Tar Heels sophomore Harrison Barnes -- and how he appears far more comfortable these days than he did a year ago. While there aren't a ton of question marks with UNC, that's not the case down the road at Duke, where just about everyone on the team has a new role.
Austin Rivers has high expectations placed upon him as a highly touted freshman, but the most impressive and consistent player, according to the Duke coaching staff, has been senior big man Miles Plumlee. Plumlee (pictured above dunking over little brother Marshall during Friday night's festivities) has been an enigma for his first three seasons in Durham. Blessed with size and athleticism, the issue for Plumlee, more than anything else, has been confidence.
But after a summer in which he actually got away from Duke, Plumlee came back bigger, stronger and with a swagger. He dominated practice on Friday afternoon against the middle Plumlee, Mason, and Ryan Kelly. He was a presence in the middle and had one spectacular dunk that would have made Doug Gottlieb re-consider his comment of Duke being "un-athletic."
The 23-year-old Plumlee has a different look to him now. He's up to at 255 pounds after spending the summer working out with Marquis Jet co-founder Jesse Itzler in New York. Itzler also owns a company called Hundred Mile Group, where Plumlee interned this summer.
"Working out with him is no joke," Plumlee said.
Plumlee admitted when he arrived at Duke he wasn't sure he belonged. Remember, he committed to Stanford and was a late pick-up for the Blue Devils after the coaching change that sent Trent Johnson to LSU and, ironically, Duke assistant Johnny Dawkins to Palo Alto. It's taken time not just for Plumlee to understand he belongs, but to sustain that belief.
"I'm the senior leader now," he said. "I never had to step up before. I have to take ownership in this team."
Plumlee realizes they'll be those that won't believe it until they see it in the games - and that's alright.
"Now it's time for me to show it when it counts," Plumlee said.
Photo: AP