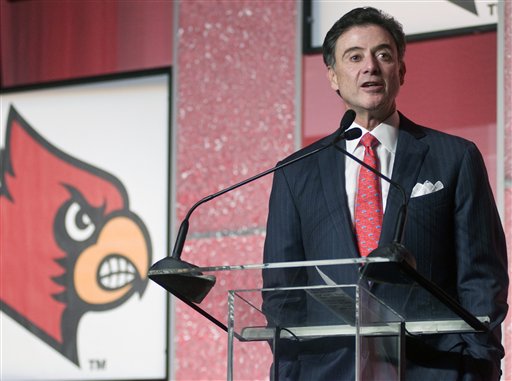 By Gary Parrish
LOUISVILLE -- So I was walking around Louisville's practice facility Saturday, and I kept seeing shirts that read "Louisville First." Apparently, that's this season's slogan for the Cardinals. Team first. Nothing else matters. Check your ego at the door. Louisville First.
No big deal, right?
Coaches do stuff like this all the time.
But then I started thinking about John Calipari's Media Day on Thursday and the speech he gave at Friday's Big Blue Madness, and I couldn't help but make a connection between Louisville's new slogan and
Calipari's favorite new phrase
-- Players First. "This is a players-first program," he said over and over again, and it really is classic Calipari. He's always one step ahead, trying to turn somebody's something into something else. You see, once Pitino decided to tout his program as a program that puts the team first, Calipari decided to take the opposite approach and hammer into recruits' heads whatthat he's a players-first coach and only at Kentucky to help prospects "reach their dreams." Yes, Calipari has used the phrase before, but he's never used it as relentlessly as he's been using it lately. Everything is players-first-this and players-first-that. If Final Fours and national championships happen to come with that, well, that's fine, too. But it's players first at UK. Players first. Players first. Players first. Don't ever forget it.
So funny.
I love stuff like this.
Anyway, besides that it's been fairly quiet in the Pitino-Calipari War of Words since the Louisville coach, in response to the Kentucky coach,
said he planned to "ignore the jealous ... ignore the malicious ... ignore the ignorant and ... ignore the paranoid."
If true, that's too bad because the Pitino-Calipari rivalry makes the Louisville-Kentucky rivalry tops in college basketball. I personally won't be satisfied until Calipari brings up Karen Sypher and Pitino spends 20 minutes talking about how much he'd hate it if one of his five Final Fours were ever vacated, much less two. Up to me, that's where we're headed. But after talking to some Louisville and Kentucky players about it over the weekend, I'm convinced I'm more into the rivalry between their coaches than they are, and you, the fans, probably are, too.
"We don't hear much about it, but our fans are always like, 'That Calipari is this,' and then the UK fans are like 'Rick Pitino is this and that,'" Louisville guard Peyton Siva said with a laugh. "Hey, it's Louisville vs. Kentucky. It's the fans' rivalry, and they feed into it. So anything Coach P says about Kentucky, they're gonna blow it up. And anything Coach Calipari says about Louisville, they're going to blow it up.
"It's fun," Siva concluded. "But we don't worry about it much."