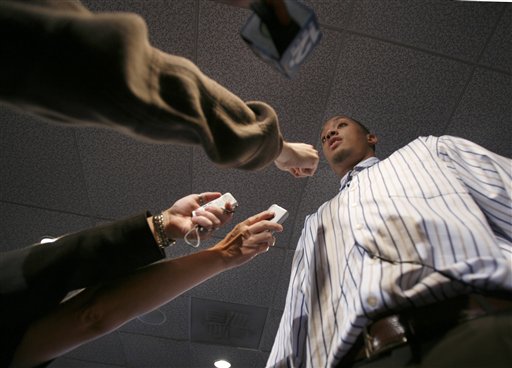 By Matt Norlander
Michael Beasley is suing the person who, at one point in his life, was probably the second- or third-most vital human being to Beasley's success in basketball. The other is his former agent.
Wednesday night,
The Washington Post
reported an expansive story on Beasley
-- one of the biggest impact players in college basketball in 2008 -- suing Joel Bell, who briefly (officially) represented Beasley through
September of 2008
, and Curtis Malone, Beasley's AAU coach in high school.
The suit is a counter to Bell's suit that Beasley ended his contract prematurely.
Beasley was the No. 2 pick in the 2008 draft. This legal fight has been a long time coming, and because it's over broken verbal and written contracts, the seedy side of amateur athletics comes leaking out the side of the foundation.
As for the collegiate angle, there's no telling if this will affect Kansas State in any way, or Dalonte Hill, the former K-State assistant now at Maryland who got Beasley to play for the Wildcats.
You want to know how things get done at the AAU level? This is it. And it's only getting out because former friends, coach and player, have gotten into a tussle over money. An agent was promised a player would be his, and that promise didn't quite work out.
Money gets players and coaches and schools and agents and runners into these situations, and many times, it tosses them out of them, into the light where rolled eyes come just after fingers point with cynicism instead of amazement. Coaches, agents and would-be agents see talent at 13, 14 and 15 years of age, and the plan is concocted.
Let's get that kid. Let's get him now. You get him on your team, you push him toward me when he's older, and I'll represent him when he's making NBA money.
Many times, this happens without a kerfuffle. Other times relationships go sour and word never escapes. But Beasley and Bell were separated mere months after the business marriage, and now the dispute is public.
Beasley asserts in his suit that Bell Sports Incorporated President Joel Bell bankrolled Curtis Malone's nationally recognized DC Assault summer basketball program and that in return Malone felt obliged to steer Beasley ... to Bell for professional representation. Beasley's suit contends that, along the way, Bell and Malone violated NCAA rules and federal laws governing agent conduct. Beasley's accusations are part of a countersuit against Bell and a third-party claim against Malone filed Sept. 27 in Montgomery County Circuit Court in response to a Jan. 21 breach-of-contract suit filed by Bell Sports Inc. against Beasley. Bell's original suit claims Beasley wrongfully terminated his representation agreement with Bell Sports Inc. just prior to signing an endorsement deal with Adidas.
Ah, yes. There's the shoe company, and those are just as responsible for the rule-breaking behavior in amateur sports as any other, organization or outfit. The story depicts Bell and Malone as a duo who frequently helped out Beasley and his family, taking care of everything from food to travel to getting out of serious vehicle violations, like driving with a suspended license, which Beasley's mother was nabbed for.
Malone's lawyer, Bill Heyman, told the
Post,
"Mr. Malone absolutely denies the allegations of impropriety made against him in the third-party complaint."
Bell and Malone and Beasley won't be speaking about this publicly. They never intended to, and long after the suing ends, maybe they'll pipe up, but there won't be much new information to gather, I wouldn't imagine. The Post's story depicts Beasley's mother depicting Malone -- Beasley AAU coach, remember -- as a runner. And unfortunately, that's how some are seen. A lot of these AAU coaches are tied into agents and runners, and become de factors themselves. They're incubating potential gold-making chickens; you're expecting them not to flirt with the temptation?
To add another layer to this, it's known that Beasley used to stay with Malone regularly. Beasley attended five high schools, was highly coveted, and without much consistency in his life, Malone was a constant. The two were very close. Now there's this. A fallout because a relationship was built of money and the prospect of getting rich off a prospect.
The
Post
reports that between 2005 and 2009, DC Assault brought in nearly $600,000 in "contributions and grants." The team, like many AAU programs, is registered as a charity. Since it's a public charity, donors to the program are not mandatory to be listed.
The report is dense, so very detailed and really well-done
. A lot of it has to do with issues between Beasley and Bell well after he left college, but this issue started in the echoey gyms when Beasley was a naive high school freshman, and two guys conspired to team up with him in hopes of using his ability to make them wealthy.
It happens so often in hoops. Exposing it is nearly impossible, because the interested parties don't benefit from squealing. Something bad needs to happen. Someone needs to get burned. In this case, long after college and AAU is behind them, nobody's afraid to confront the seedy past.
Photo: AP