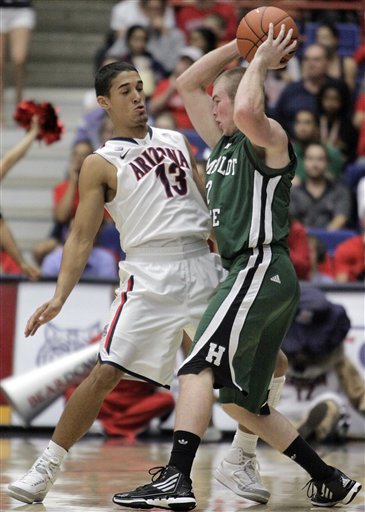 By Jeff Goodman
Nick Johnson knows it'll take time.
Not just for him, but for the entire Arizona team.
Arizona's talented freshman may have said the words "one day and one game at a time" four or five different occasions last night following the Wildcats season-opening 73-64 victory against Valparaiso.
This will obviously be a completely different team without Derrick Williams.
"Anyone can be the leading scorer or rebounder," Johnson said.
"We understand we'll go through growing pains," he added. "We've already gone through some with the exhibition loss, but luckily it didn't count on our record. However, it definitely counted in our minds."
Johnson finished with 14 points and six assists in his debut - and Arizona was led by senior Kyle Fogg, who went for 16 points.
Jesse Perry went for a double-double (14 points, 10 boards), Solomon Hill had eight points and freshman point guard Josiah Turner struggled and finished with seven points.
"He was a highly ranked guy coming in," Johnson said of Turner. "Point guard it the most difficult position on the floor. He has to know everyone's spots and also be a leader. He has a big weight on his shoulders, but it'll click for him soon."
Turner isn't the only player with an adjustment. Virtually the entire team is in a different role - and after a somewhat lackluster first half against Valpo, Arizona's defense clamped down the first 10 or 15 minutes of the second half.
"We locked down," Johnson said. "Until the last four minutes or so - when we gave up a few 3's."
Johnson maintained the same philosophy that his coach has been preaching in the preseason. This team may not look the same in the middle of Pac-12 play as it does right now.
Arizona is hopeful that Kevin Parrom will be back on the court sometime next month - and also that Turner will make major strides. However, in the meantime, it's Jordin Mayes that gives this Wildcats team the best opportunity to win.
At least for right now.
And down the road? Who knows.
"Last year they clicked at the right time," Johnson said. "We're hoping maybe we can do something like that."
Photo: AP