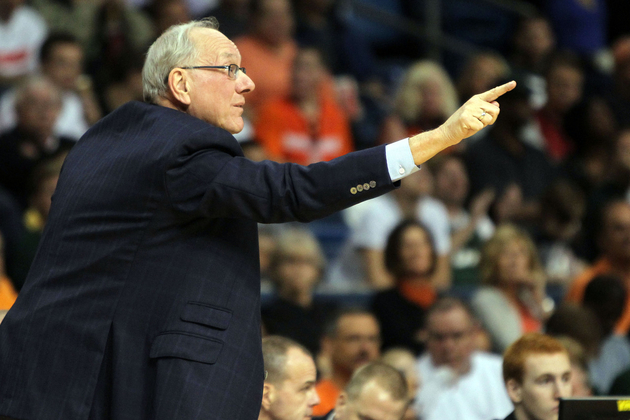 By Jeff Goodman
Jim Boeheim's team is so deep that he might wind up redshirting Trevor Cooney.
"He's our fifth guard right now," said the Syracuse coach. "We'll make a decision this week."
Cooney, a top 75 player and arguably the best pure shooter on the team, is behind Scoop Jardine, Brandon Triche, Dion Waiters and Michael Carter-Williams.
That's serious depth.
It's more of the same up front - where Boeheim will likely rotate three guys between the power forward and center spot: sophomores Fab Melo and Baye Moussa Keita as well as freshman Rakeem Christmas.
"Christmas will start at the four - and also play some at the five," Boeheim said.
"Fab has made major strides," he added. "He's a different player. He lost some weight and is playing with confidence. Last year he couldn't get up and down."
"Both of our big guys from last year - Fab and Moussa - have gotten a lot better," Boeheim continued.
That's seven or eight deep - and we haven't even touched on the team's most heralded returnee: senior forward Kris Joseph, who led the team in scoring a year ago at 14.3 points per game.
There's also the group's most underrated player, sophomore C.J. Fair.
This team may not have that dominant player - a lottery pick - but what it does have is strength in its numbers. So much so that Boeheim doesn't seem at all concerned about replacing the production of graduated big man Rick Jackson - who averaged a double-double last year.
"This is the deepest team we've had in many years," Boeheim admitted. "I think we've got a chance."