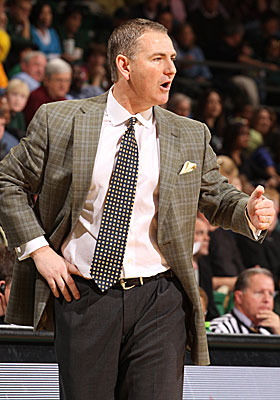 By Jeff Goodman
Central Florida athletic director Keith Tribble resigned and men's basketball coach Donnie Jones has been suspended for three games as part of the school's pro-active approach to the NCAA investigation into the athletics program.
The school received the NCAA's notice of allegations on Tuesday and a news conference was held on Wednesday afternoon.
"The strengthening of UCF's commitment to compliance with the NCAA starts today," UCF president John C. Hitt said in a statement.
Assistant football coach David Kelly has also parted with the program.
Both Tribble and Kelly were both cited for unethical conduct when meeting with NCAA investigators.
"I thank former AD Tribble and former assistant Kelly for their many positive contributions to UCF and wish them well in the future," Hitt said.
The investigation, which also includes the football program, was spurred months ago following reports by ESPN.com and the New York Times that UCF had involvement with Ken Caldwell - a third-party individual who the NCAA has classified as a runner and also a booster.
There were no allegations that Jones or his staff offered money.
The NCAA's report discloses that Caldwell had a relationship with the previous staff - including former coach Kirk Speraw - as well as Tribble.
Caldwell was already connected with current Central Florida guard A.J. Rompza - who was recruited by Speraw - and was also the legal guardian of Doukon Kuzuean - a former walk-on at the school who was brought on by Speraw.
Caldwell's son also attended Central Florida.
The allegations by the NCAA are that Caldwell was involved in the recruitment of players that Jones was recruiting - including Michael Chandler and Kevin Ware.
It also alleges that Jones didn't promote an atmosphere of compliance.
"As the program's head coach, I accept responsibility for mistakes when they occur," Jones said. "I respect Dr. Hitt and the University of Central Florida and believe the decision in this case is fair. I look forward to representing UCF in a positive manner on and off the court."
Central Florida will have 90 days to respond to the allegations.
Photo: US PRESSWIRE