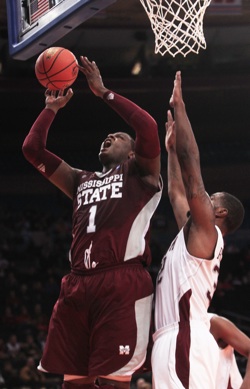 NEW YORK – For most of the past two years, people have said Renardo Sidney is the harbinger for Mississippi State basketball. As he goes, the Bulldogs go.
That's not the case anymore.
Mississippi State thoroughly handled No. 19 Texas A&M on Thursday, getting out to a 31-9 lead en route to a 69-60 victory. The margin was in double-figures for most of the game, and the Aggies never got closer than eight points after the early lead.
The most surprising part? Sidney didn't make a shot from the field, going 0-for-8, scoring three points and grabbing five rebounds in 22 minutes on the floor. He wasn't as bad as the stat line would indicate, as he hustled for loose balls and worked hard on the glass.
"He didn't finish his shots, but I'm not worried about him finishing shots," head coach Rick Stansbury said. "Only two of the shots were from out of the paint. I thought he was good tonight in terms of his effort."
He also wasn't a superstar.
It's time to take Sidney for what he really is. He's not the five-star prospect coming out of high school that will be an All-American and a future NBA lottery pick. He's not a program changer who will be the key to Mississippi State's fortunes this season.
What he is, though, is a big body who can rebound the ball, set screens and occasionally knock down jumpers off the pick-and-roll. Sidney knows how to post up around the rim and draw defenders to his side of the floor, opening up driving lanes for Dee Bost, Rodney Hood and Deville Smith.
Sidney doesn't need to be a star for Mississippi State this year. The Bulldogs have plenty of scorers, and a big man who has shown he can shoulder the inside load in Arnett Moultrie.
"As long as he defends and rebound, we'll be alright," Bost said. "He doesn't need to score. It was great to see him out there hustling tonight."
Look, some of the talent is still there for Sidney. He has a decent stroke from the arc and has an absolutely massive body, which he uses to carve out space on the low block. There were flashes of his potential last year, like the 23.0 points and 8.5 rebounds he averaged against Ole Miss and the 24-point, eight-rebound performance he notched against LSU.
Those aren't every-night performances, though. If Mississippi State can get that from Sidney once every five games or so, the Bulldogs will be an NCAA tournament team.
"[I need] him to play hard and give good effort on both sides of the ball," Stansbury said of Sidney. "In the second half, there was a loose ball, and he dove on the floor after it. That's what I need from him."
More than anything else, Sidney can't be a negative influence. He can't be a chemistry killer or someone who makes the season more about him than the team. Has he shown that in the past? Not really.
Mississippi State has a chance to be a very, very good team this season. A team that can make the NCAA tournament and maybe win a game or two if the chips fall properly.
But they need everyone on board.
Sidney can't go off punching teammates, arguing with Stansbury or being a general distraction for the Bulldogs. He doesn't have to make the team that much better; he just can't make them worse.
"He goes 0-for-8 and we win by double-figures," Stansbury said.
This is what Renardo Sidney has become – and it's about time we all realize it.
Photo: AP