Prior to two years ago, the ACC/Big Ten Challenge had lost much of its luster.
After all, the Atlantic Coast Conference had won the competition the first 10 years it was held, rolling through the Big Ten every season. However, the Big Ten turned the tables the past two years, winning the Challenge. With each conference finally getting 12 teams, every team will be involved in the Challenge. Now, there can't be any complaints about which teams aren't playing and how it gives the other league an advantage.
This season, there is plenty of attention focused on the challenge. There are two matchups between top-10 teams, along with several other interesting tilts. Can the Big Ten keep its streak rolling, or will the ACC get back on top? Let's go game-by-game and make a pick.
Tuesday
No. 14 Michigan at Virginia: Don't expect an up-and-down contest here. Both teams prefer to slow the game down and play in the half-court. Michigan will be a Big Ten contender this season, while Virginia has the ability to be a sleeper in the ACC. PICK: MICHIGAN
Northwestern at Georgia Tech: Northwestern is currently undefeated, with only one of the wins coming by more than seven points. The battle to watch on the perimeter could be Drew Crawford vs. Glen Rice Jr. I think Northwestern's John Shurna will be the difference. PICK: NORTHWESTERN
Illinois at Maryland: Both teams still seem to be looking for the right combination, athough Illinois has rolled to a 6-0 record behind an 11-man rotation. Maryland has struggled, with two 20-plus-point losses to Iona and Alabama. High-scoring guard Terrell Stoglin has been a highlight, though. PICK: ILLINOIS
Miami (Fl.) at Purdue: I have a feeling these two will look drastically different come March. Purdue is still feeling itself out, while Miami is just trying to survive with only seven guys in the rotation. In the end, Robbie Hummel will make the big shots and Purdue's defense will be too much for the 'Canes. PICK: PURDUE
Clemson at Iowa: Probably not the most attractive matchup of the day, but each team has had some bright spots. Guard Matt Gatens has been good for Iowa, but he will need help against Clemson. The Hawkeyes have already lost to Campbell by 16. Clemson dropped games to Charleston and Coastal Carolina, but things figure to get better. PICK: CLEMSON
No. 3 Duke at No. 2 Ohio State: The marquee matchup of the Challenge. Duke is coming off a Maui championship, while Ohio State has already defeated top 10 Florida. It's going to be fun to watch Aaron Craft defend Austin Rivers, but does Duke have anyone to match-up with Jared Sullinger down low? PICK: OHIO STATE
Wednesday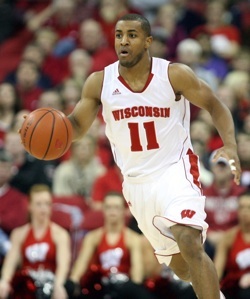 Indiana at North Carolina State: A couple of programs looking to get back on the right track – and each team is doing a decent job of it this year. Indiana is 6-0, behind the stellar play of freshman Cody Zeller. When NC State has all its pieces working together, it's a solid opponent. PICK: NORTH CAROLINA STATE
Penn State at Boston College: Um, not the best game of the Challenge? Penn State has a good record at 5-2, but they've been blown out by Saint Joseph's and embarrassed by Kentucky. On the other side, Boston College looks like one of the worst BCS-conference teams in the country. Could be a long year for both. PICK: PENN STATE
Florida State at Michigan State: Should be a battle between two physical, defensive-minded outfits. Florida State is looking to bounce back from two losses in the Bahamas, while Michigan State is still figuring itself out. Draymond Green going against FSU's deep frontline should be fun. PICK: FLORIDA STATE
Virginia Tech at Minnesota: This game lost a little bit of its excitement when Minnesota forward Trevor Mbakwe, one of the best forwards in the country, tore his ACL on Sunday. He will miss the season. It remains to be seen who will pick up the slack. Va. Tech counters with the backcourt of Erick Green and Dorenzo Hudson. PICK: VIRGINIA TECH
Wake Forest at Nebraska: This could be an interesting test for Nebraska. Wake Forest is not very good, but the Cornhuskers have been up-and-down defensively so far. A few underrated scorers will look to make their mark in Nebraska's Bo Spencer and Wake Forest's Travis McKie and C.J. Harris. PICK: NEBRASKA
Wisconsin at North Carolina: Another marquee matchup. One of the best head-to-head battles all season will take place, as UNC's Kendall Marshall takes on Wisconsin's Jordan Taylor at the point guard position. They are two of the three or four best point guards in the country. The question will revolve around Wisconsin's frontcourt; can it contain UNC's great frontline? PICK: NORTH CAROLINA
FINAL VERDICT: BIG TEN, 7-5
Photos: US Presswire