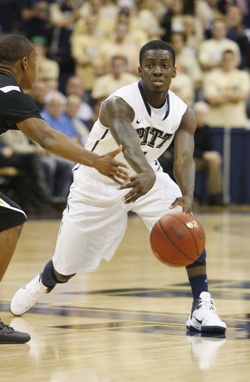 Travon Woodall had been one of the most surprising players of the first month of the season, stepping in as Pittsburgh's starting point guard and performing exceptionally well.
Just as he was hitting his stride, though, head coach Jamie Dixon announced on Friday morning that Woodall would miss the next month with a groin strain and abdominal tear.

"We anticipate that Tray will make a full recovery and join his teammates on the court soon," Dixon said in a release.
While he should return just after the New Year, this is still a huge loss for the Panthers in the meantime. Woodall ranked third in the country in assists through seven games, averaging 8.3 per game. He totaled double-digit assists on four separate occasions. Woodall was also second on the team in scoring at 14.1 points and was shooting nearly 46 percent from 3-point range.
In his place, Dixon will turn to a host of young players to fill the void. Freshman John Johnson will likely see the lion's share of the available minutes, as he has provided a spark off the bench so far this season. With that said, he's more of a scorer than a distributor, meaning we could also see Ashton Gibbs handle the ball in Woodall's absence. Freshman Isaiah Epps might also get extra minutes for the next month.
Pittsburgh heads to Tennessee on Saturday, and also faces Oklahoma State next weekend. Big East play starts on December 27 with Notre Dame and then a meeting with Cincinnati on New Year's Day.
Photo: US Presswire