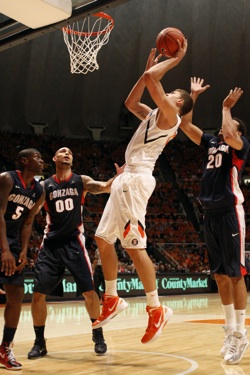 For most of the past decade, Gonzaga has overcome mediocre defensive play to win the West Coast Conference and reach the NCAA tournament. While that will likely happen again this season, the Bulldogs won't get out of the first weekend if they don't shore up that side of the ball.
Offense is not going to be a problem. Mark Few has plenty of weapons at his disposal, from Robert Sacre and Elias Harris on the inside to Kevin Pangos knocking down 3-pointers to Marquise Carter and Gary Bell providing a little bit of everything. David Stockton and Sam Dower are also options.
Against most teams, the offensive talent of Gonzaga will be enough. Unfortunately, against top-notch competition, they will have to get tough on the defensive end – looking to outscore them just won't work.
Take Saturday's game against Illinois, for example. The Bulldogs allowed 82 points to the Fighting Illini, only the second time this season Illinois has scored more than 80 points – the other came against Chicago State. The Fighting Illini shot 53.3 percent from the field, a number that dropped from 70 percent late in the first half. Illinois had far too many open shots, and also was able to get into the lane at will and finish.
More troubling, though, were the rebounding numbers. Sacre grabbed just two rebounds all game, and both came within a 15-second span midway through the second half. Someone as talented as Sacre, a 7-foot NBA prospect, shouldn't grab just two rebounds in 29 minutes.
It's not as if he was going against all-stars, either. Meyers Leonard, Nnanna Egwu and Tyler Griffey all picked up two early fouls for Illinois, but Sacre didn't take advantage when going against 6-foot-8 freshman Ibby Djimde, who has played five minutes or fewer in six games this year. Going against a lineup featuring three freshmen and no one taller than Djimde, Illinois was only outrebounded by one and actually went on an 8-0 run to go into halftime with a lead.
That stretch just exemplified Gonzaga's lack of defensive toughness. The Bulldogs rank No. 193 in defensive rebounding percentage; teams rebound a shocking 33.3 percent of their misses. When a team has Sacre and Harris down low, that simply should never happen. Moreover, they don't block shots and allow open finishes at the rim. On several plays against Illinois, Sacre didn't hurry back on defense, which could be why teams score better than 1.10 points per possession in transition opportunities.
That's not all, though. The perimeter defense has to do a better job of guarding outside shots. Per Synergy, Gonzaga has had to defend catch-and-shoot jumpers nearly 26 percent of the time – and it allows 1.17 points per possession in those situations. Even more eye-opening, though, is that 47 of those 89 catch-and-shoot possessions have been unguarded. Not surprisingly, teams are shooting 38 percent from behind the arc against Gonzaga.
Pangos and Stockton provide a different dimension offensively, and they need the two on the floor – but they both have limited lateral quickness. The two simply can't be on the court at the same time; it's too much of a liability on the defensive end.
Given Gonzaga's offensive talent up and down the roster, the Bulldogs should still be the WCC favorite. They have the experience and the inside-outside options to pose a threat to any team.
With all this talent, though, Gonzaga's ceiling should be higher than it is. But it won't move higher until it toughens up defensively.
Photos: US Presswire
More College Basketball coverage