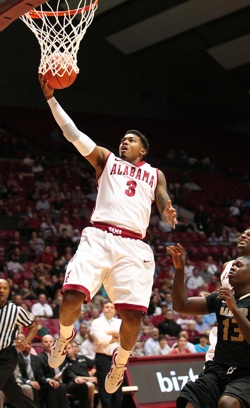 Oh, how one week changes everything.
A week ago at this time, Alabama was everyone's sleeper Final Four pick. The Crimson Tide were 7-0, with wins over Wichita State and Purdue. Then Alabama lost a close one to Georgetown at home and by 12 at Dayton last night.
Suddenly, everyone's off the Tide bandwagon.
The primary reason for their struggles is their lack of perimeter shooting and offensive options. When defenses sag off them in a half-court set and pack the lane, Tony Mitchell and JaMychal Green don't get as many opportunities. Unfortunately, Alabama shoots only 26.7 percent from 3-point range and rank near the bottom of Division-I in percentage of points from 3-pointers.
Heading into the year, the coaching staff was banking on freshmen Trevor Lacey and Levi Randolph to provide a perimeter boost. Lacey was one of the more dangerous shooters in the class of 2011, but he has only hit eight of 28 3-point shots. Randolph was another very good shooter, in the mid-range and from behind the arc. He also is struggling mightily, nailing just 3-for-22 from outside.
Alabama likes to force turnovers in order to get points in transition – mostly highlight reel dunks from Mitchell. When the Crimson Tide are forced to play against tough defenses in the half-court, though, they have struggled somewhat. Per Synergy, against zone defenses, they're averaging 0.94 points per possession, and against half-court man defense, it's down to 0.83 PPP. According to KenPom.com, the Tide are scoring 1.08 PPP overall, making it clear they're clearly not as efficient once defenses are able to guard them in the half-court.
For Alabama to get better, Anthony Grant needs a lot more from Lacey, Randolph and fellow freshman Rodney Cooper. Those are three of the top four 3-point shooters on the team by volume, yet they've made a combined 17 triples this season. Mitchell and Green will continue to get points, and Trevor Releford will be a solid playmaker all season – but the Tide need more.
Of Lacey's 11 catch-and-shoot situations, 10 have been unguarded – and he's only made three of them. The same goes for Randolph, who has made just four of his 16 unguarded jumpers. It's not like these guys are forcing shots with hands in their faces – they're getting open jumpers. They just need to knock them down on a consistent basis.
Alabama has the pieces to make a run in March, when you consider the Tide's defense, their frontcourt and ability to get points around the rim. However, they need some perimeter help.
And that falls on the freshmen.
Photo: US Presswire