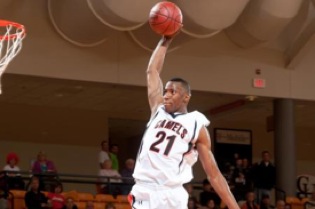 WILMINGTON, N.C. – Campbell University has never had a player reach the NBA. Considering the Fighting Camels have only reached one NCAA tournament, that's probably not a surprise.
Could Campbell break through and produce an NBA prospect this season? The school has its best chance in years with senior forward Eric Griffin.
Prior to Monday night's game against UNC-Wilmington, DraftExpress.com's Jonathan Givony tipped me off about Griffin. Givony compared him to Jeremy Evans, the former Western Kentucky forward who was drafted by the Utah Jazz in 2010. In college, Evans wasn't highly touted, but he was efficient from the field and a very good shot-blocker.
Givony's pick didn't disappoint. Griffin had 18 points, 15 rebounds, four assists and three blocks in the last-second loss to UNCW. He might have finished with about 30 points and 18 boards if he didn't go 2-for-9 from the free-throw line or disappear in the last eight minutes.
Griffin is athletic, long, and runs the floor like a gazelle. He has surprisingly good passing ability, and can also knock down 3-pointers or go off the dribble. Moreover, he has great footwork around the rim. Just check out the first two dunks from the video below to get a preview of what he can do.
Here's the kicker: Griffin has only been playing basketball for five years.
"He's definitely improved," Campbell head coach Robbie Laing said. "His composure, his patience is better. He's really raw. He has to adapt every night to whatever arena he's in, how the game is being called, what size guy is guarding him. It's part of the maturation process. He doesn't have a lot of basketball minutes."
Griffin, a 6-foot-8 forward from Orlando, was cut from his high school team his junior year, a source told CBSSports.com. He grew five inches after that, and then went to two community colleges – Hiwassee and Garden City – before landing at Campbell.
"Where he was in JUCO to where he is now is night and day," the source said.
On the season, Griffin is averaging 17.6 points, 8.8 rebounds and 2.4 blocks per game, while shooting nearly 65 percent from the field. His performances in back-to-back games against Iowa and Creighton put him on the national radar. In a 16-point win over the Hawkeyes, Griffin went 10-for-11 from the field, finishing with 23 points, 13 rebounds and six blocks. He followed that up with 29 points and 14 boards vs. Creighton.
Laing said that Griffin still needs to work on some of the little things in order to reach his full potential, but his ceiling is very high. Interestingly, Griffin is also young for his grade, which makes him more intriguing to NBA types.
"He could be really special," Laing said. "We're getting inquiries from the next level, people are stopping by to watch us. That will be up to him and his maturation."
Photo: Campbell University (Bennett Scarbrough)