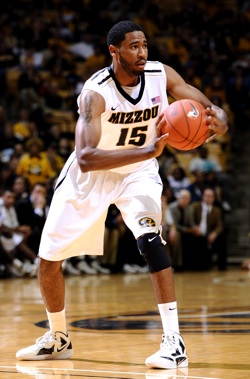 On the morning of Missouri's Big 12 opener against Oklahoma, the Tigers had a personnel shakeup: forward Kadeem Green is transferring.
"We obviously wish Kadeem nothing but the best as he moves forward with this decision," head coach Frank Haith said in a statement. "This is a decision that did not come easily for Kadeem – he has made a lot of friends and really enjoyed his time here at Mizzou."
Green, a 6-foot-8 redshirt freshman from Canada, was averaging 3.0 points and 3.1 rebounds in 10.5 minutes off the bench for the undefeated Tigers. His minutes had fallen dramatically in the last two games, not coming off the bench against Illinois and playing less than one minute against Old Dominion.
This might not seem like a big loss for the Tigers, but it certainly gives them an extremely thin margin of error heading into Big 12 play. Missouri is now down to just seven scholarship players, only two of which are taller than 6-foot-6. Ricardo Ratliffe has been a stud down low, shooting better than 76 percent from the floor, while Steve Moore has been solid off the bench.
However, outside of those two, there's no size on the roster. Expected starter Laurence Bowers suffered a season-ending knee injury before the season began. 6-foot-6 Kim English, a natural shooting guard, has been forced to play power forward on the defensive end. If there is an injury to either Ratliffe or Moore, Missouri is in big trouble.
Missouri is 13-0 currently, one of four undefeated teams left in the country.
Photo: US Presswire