By Jeff Goodman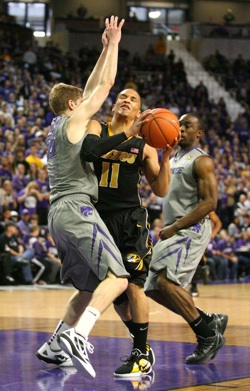 Missouri's strength of schedule, no matter how you cut it, was lackluster. The RPI has the Tigers strength of schedule in the low 200's and for good reason.
The Tigers had played just one "true" road game in their 14-0 start, a close call last weekend at an Old Dominion team that is young and still trying to find its identity.
The wins that appeared impressive -- routs over Cal and Notre Dame in nearly Kansas City, a victory over Villanova in New York and a win against Illinois in St. Louis -- don't look all that powerful any more. None of those four teams are locks to make the NCAA tournament and it's not crazy to claim all four could wind up as NIT teams.
Well, Missouri took its first loss on Saturday afternoon in Bramlage Coliseum, where the Tigers were truly never even in the game against Kansas State.
Now, let's be clear: Road wins in league play are tough to come by. Just ask Georgetown, which lost Saturday at West Virginia; or Florida, which dropped one at Tennessee. But for those who tabbed Missouri as the Big 12 favorites after its hot start, let's wait a while.
Sure, their offensive numbers are eye-popping. They've been extremely effective and efficient. Marcus Denmon has All-American'ish numbers. Kim English has shot the you-know-what out of the ball and Phil Pressey has controlled tempo and make plays when necessary as the Tigers have climbed their way into the Top 10.
But this is a team that could have difficulty in league play.
Kansas State is a difficult place to play and the Wildcats, despite getting smacked by Kansas in Lawrence earlier in the week, are a fringe Top 25 team. The Wildcats crushed Missouri in the paint.
Remember, Missouri has just one legitimate big man in Ricardo Ratliffe. Virtually no depth on the frontcourt.
K-State exploited its size advantage - and if Mizzou thought the Wildcats were big, strong and long, just wait until they see Kansas and Baylor.