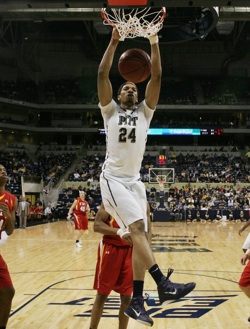 By Jeff Goodman
It's only been three weeks, but the recruitment of Khem Birch has taken plenty of twists and turns since rumors first started that he was leaving Pittsburgh.
On Monday, it ended: Birch is headed to UNLV, a source told CBSSports.com.
The 6-foot-9 Canadian power forward chose the Runnin' Rebels over Florida. Xavier, Gonzaga, New Mexico and others were also in the mix at one point.
Birch was the highest-ranked player to ever commit to the Panthers, but he left the program after 10 games. He said in late December that he didn't bond well enough with his teammates at Pittsburgh, and also that the style of play wasn't ideal for him.
He averaged 4.4 points, 5.0 rebounds and 1.9 blocks at Pittsburgh.
Photo: US Presswire