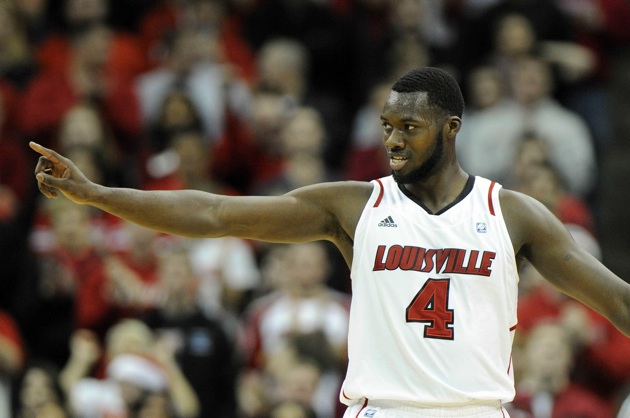 Louisville junior Rakeem Buckles will miss the rest of this season and all next season with a torn ACL. (US Presswire)
Louisville's injuries have been piling up all season, but now they will affect next year's campaign as well.
Rakeem Buckles will miss the remainder of this season and all of next season with a torn ACL in his left knee. The junior forward tore the ACL in his right knee just 11 months ago.
"I don't think any of us could imagine this happening to such a fine young man," head coach Rick Pitino said in a release. "All of us are just crushed."
Because Buckles has already had one major knee surgery, his recovery will apparently take "well over a year," according to Louisville trainer Fred Hina. Buckles returned after nine months and played in his first game on December 7 against IUPUI.
Even though he has been playing only 13 minutes per game, he's been one of the more efficient rebounders on the Cardinals. Buckles, a 6-foot-7 Florida native, had been averaging 4.0 points and 3.8 rebounds in 11 games.
This is Buckles' fourth injury in the last two seasons, as he also had a concussion and broken finger during his sophomore campaign. He is the eighth Louisville player to miss a game with injury this year.
The loss of Buckles severely hurts Louisville's interior depth. Gorgui Dieng and Chane Behanan will continue to start, but now the only player to back them up is combo forward Jared Swopshire. Stephan Van Treese hasn't played since November, while freshman Zach Price has appeared in just seven games this season.