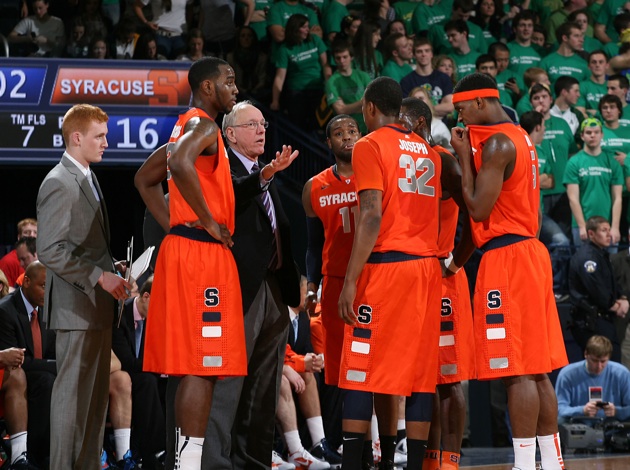 Without Fab Melo for the second game in a row, Syracuse will look to bounce back on the road at Cincinnati. (US Presswire)
Luckily we had enough action over the weekend to carry us until Tuesday, because tonight's action is a little light for the most part.
Note: All times are Eastern, and the rankings are according to the AP poll.
Best game: No. 3 Syracuse at Cincinnati (7 p.m., ESPN). The Orange no longer have a "1" next to their name after losing to Notre Dame on Saturday. Cincinnati is now 10-2 since the brawl with Xavier, including road wins at Georgetown and Connecticut. Syracuse will not have Fab Melo on the inside, which will enable Cincinnati to go with its four-guard lineup more consistently. Cashmere Wright has to take care of the ball, and the Bearcats need to win the battle on the boards.
Second-best game: Belmont at East Tennessee State (7 p.m.). Belmont was expected to cruise through the Atlantic Sun this season, but the Bruins have struggled somewhat in conference play. They dropped a home battle to Lipscomb two weeks ago, then lost at South Carolina Upstate over the weekend. East Tennessee State had won five in a row before losing to Lipscomb on Saturday. Belmont is simply not defending like it did last season, when it forced turnovers at a high rate.
Another one to watch: Mississippi Valley State at Texas Southern (9 p.m., ESPNU). It's a battle for first place in the SWAC. (Like I said, it's a light day.) MVSU is 6-0 in the conference, since going 1-11 in non-conference play. Texas Southern has just one loss in the SWAC, last week at Jackson State. The Tigers also went 1-11 in non-league play, coincidentally. MVSU pushes the tempo, but Texas Southern's defense is the best unit in this game.
Guaranteed win: Since we've already talked some Atlantic Sun, co-leader Mercer has an easy game on its schedule with 4-15 Jacksonville (7 p.m.). Mercer has already beaten Georgia Tech this season, and is 6-2 in the league. Jacksonville has won two in a row, but it was on a 13-game losing streak prior to last week. Mercer should get the win and keep pace at the top of the standings.
Potential upset: I think Cincinnati will beat Syracuse, but we have already discussed that game above. Outside of that, there's not a lot on the schedule that looks like an upset, but I'll go with North Carolina Central over Morgan State in MEAC play (7:30 p.m.). With Todd Bozeman back as head coach at Morgan, the Bears should be tough at home again. But NC-Central is the most talented team in the MEAC and could hit its stride soon.
Three things to keep an eye on:
Lots of good CAA hoops tonight. Surprise Northeastern takes on Old Dominion (7 p.m., ESPN3); George Mason hosts UNC-Wilmington (9 p.m.); and Hofstra travels to VCU (7 p.m.). Also, Towson tries to get its first win, at Delaware (7 p.m., ESPN3).
More Atlantic Sun fun. Lipscomb and USC Upstate (7 p.m.) are both one game out of first place in the conference; they battle to keep pace tonight.
Texas A&M is not a very good team, but maybe the Aggies will catch No. 5 Kansas looking ahead or taking a break tonight (9 p.m., ESPN). It's not likely, though.
More College Basketball coverage