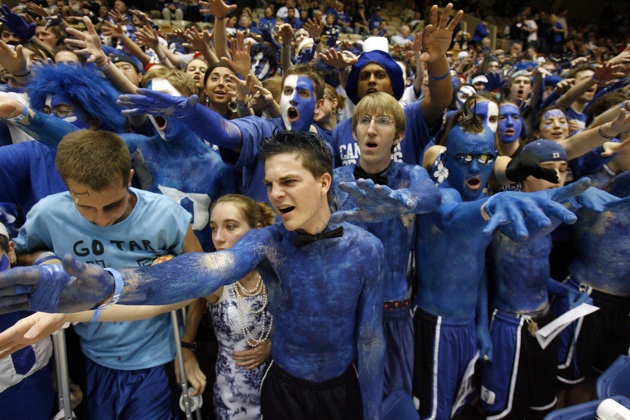 The "Cameron Crazies" student section has seen its attendance and enthusiasm drop in the last few years. (US Presswire)
Cameron Crazies.

The student section at Cameron Indoor Stadium has long been considered a college basketball staple, complete with body-painted undergraduates heckling opponents and Dick Vitale body-surfing.
It seems that the once-renowned section has quickly lost much of its luster, though.
According to the Duke Chronicle, only 650 students have attended each game – just more than half of the 1200-person capacity for the student section. The school has been selling general admission tickets in the student section in an effort to fill it.
The lack of interest in standing in the rain and other weather conditions has turned some students off from going to games, although Garrett said people can show up a half-hour before tipoff and still get a ticket in the student section. According to the paper, the lack of marquee teams playing at Cameron has been another problem. Duke has played several of its top non-league games at Madison Square Garden, and the ACC isn't exactly loaded with top-10 teams this season.
Against Wake Forest, head coach Mike Kzyzewski had to encourage the students to get louder during the game. That's not a good sign.
"Students need to realize that going to Cameron is . . . an awesome experience," co-head line monitor Ellie Garrett told the paper.