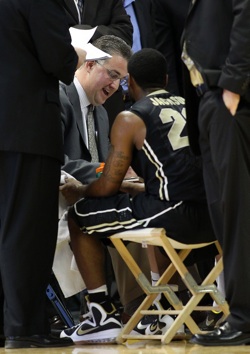 As one of the better teams over the last five years, we've become accustomed to seeing Purdue in the NCAA tournament – and as a team no one really wants to play.
After the Boilermakers' home loss to Michigan on Tuesday night, though, Matt Painter's club has its work cut out for them if it wants to return to the Big Dance.
Right now, Purdue sits at 14-7, with a 4-4 conference record. On the surface, that's not bad. However, the Boilermakers have one marquee win on their docket: a neutral-court win over Temple back in mid-November. The Owls are a solid team, yes, but it's not going to be the type of win that sets Purdue apart come bubble time. Outside of that, there isn't a victory over a definite NCAA tournament team. Beating Illinois at home was good, as was knocking off Minnesota and Iona away from home. But Illinois and Iona have begun to lose some games, and Minnesota isn't in great shape for an NCAA tournament bid.
The computer numbers are average, at best: an RPI of 62 and an SOS of 55. The non-conference strength of schedule was only 185. Moreover, a neutral-court loss to Butler and a 20-point road loss at Penn State aren't doing the resume any favors.
Yes, there is still plenty of time left in the season – but therein lies the biggest problem. The remaining schedule is brutal.
There are five road contests left in Big Ten play: Northwestern, Ohio State, Illinois, Michigan and Indiana. Not one of those games is a definite win for Purdue. The Boilermakers will need to steal one or two of those away games if they want an attractive profile on Selection Sunday. Saturday's game at Northwestern would be a good start, as it might be tough to win at Ohio State, Illinois, Michigan and Indiana.
The home games aren't a cakewalk, either. Penn State and Nebraska should be wins, but what about Indiana, Northwestern and Michigan State? Just to finish above .500 in the Big Ten, Purdue would have to go undefeated at home – not an easy task – and then steal a road game.
If this were a Purdue team of the last couple of years, that wouldn't seem too difficult. The Boilers used to be unbeatable at home, but it has now lost two of its last three games at Mackey Arena.
It's going to be a tough five weeks for Purdue.
Photo: US Presswire