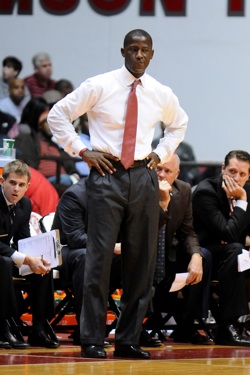 Back in late November and early December, everyone was on the Alabama bandwagon. People were talking about the Crimson Tide as a team that could give Kentucky some trouble in the SEC and potentially make a run in March.
Fast forward to late January, and it's not even clear that Anthony Grant's group is bound for the NCAA tournament.
Wednesday night's loss at South Carolina was Alabama's fourth in a row, dropping the Tide to 2-4 in the SEC and just 13-7 overall. The previous three losses in conference play – Mississippi State, Vanderbilt and Kentucky – were excusable, but the Gamecocks were winless in league play before Alabama came to town. It's also going to go down as a very bad loss for 'Bama's at-large resume, with a sub-150 RPI giving the profile a black eye.
The positives on Alabama's resume include a win over Wichita State in Puerto Rico, and well, little else. The Tide also knocked off Maryland and Purdue in November, and defeated VCU in late November. That's pretty much it. The best win since November 27 (VCU) was a home victory over LSU.
Going forward, Alabama has a very easy schedule, which could be a blessing and a curse. If the Tide run off a string of wins – which is very possible with Arkansas, Ole Miss, Auburn and LSU coming up – then we'll forget this conversation ever happened. But a couple of stumbles along the way, and Alabama could be in need of a marquee win. Where can that come from? The only chances remaining are at home against Florida and home against Mississippi State.
If Alabama is truly an NCAA tournament team, it will go 8-2 or so down the stretch. In that instance, the Crimson Tide will be worried about seeding, not inclusion.
However, if Alabama is truly an NCAA tournament team, it probably wouldn't have lost to South Carolina.
Photo: US Presswire