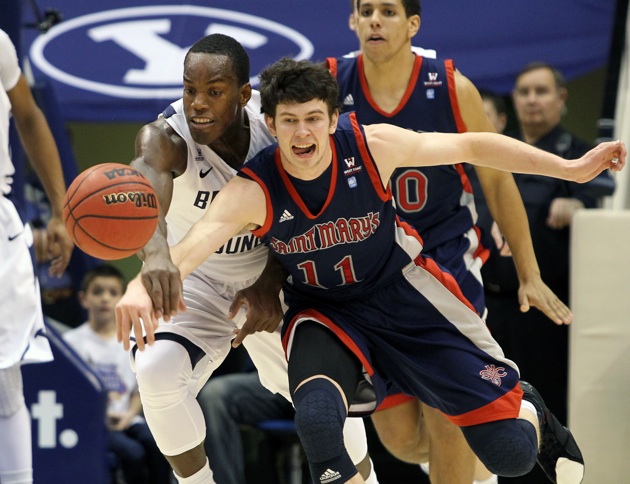 Clint Steindl (16 points) and Saint Mary's were a step ahead of BYU all night in the Gaels' 80-66 win. (AP)
By Jeff Goodman and Jeff Borzello

Here's everything you need to know about Saturday's slate of college basketball games …

Game of the day: Syracuse holding off West Virginia with the help of referee Karl Hess. The Orange played their third consecutive game without big man Fab Melo (academics) and it was close most of the way. Bob Huggins' team had a chance to tie the game in the closing seconds, but Hess and the officiating crew missed a clear goaltending call from 'Cuse big man Baye Keita that could have sent the game to overtime. Huggins after the game when asked about whether it was a goaltend: "I know it was. I just saw the replay."

Game of the Day, Vol. 2: Drake and Wichita State went into three overtimes, before the home Bulldogs finally put the Shockers away for good. Ben Simons helped Drake overcome an uneven performance from Rayvonte Rice en route to a 93-86 win in 55 minutes.
Win to brag about: I was set to go with Marquette's come-from-behind road win at Villanova, but Iowa State's home win against Kansas was the most important in Cyclones coach Fred Hoiberg's young coaching career. It snapped a 13-game losing streak against the Jayhawks and also may be just the resume victory that Iowa State will need come March in order to get on the right side of The Bubble.

Win to brag about, Vol. 2: BYU was 99-7 at the Marriott Center heading into Saturday night's revenge game against Saint Mary's. The Cougars are now 99-8, after the Gaels went into BYU's building and throttled the Cougars, 80-66. Saint Mary's got off to a big lead in the first half, but BYU fought back to make it a nine point game. The Gaels didn't let them get any closer -- Saint Mary's is clearly the cream of the crop out West.

Loss to hide from: This one is easy. It's Buzz Peterson and UNC Wilmington falling to a Towson program that came into the game riding an NCAA-record 41-game losing streak.

Loss to hide from, Vol. 2: Dayton looked like the best team in the Atlantic-10 last weekend when it blew out Xavier. This week, not so much. The Flyers played host to 3-18 Rhode Island -- and lost, 86-81.
Player who deserves improper benefits: UMass' long and talented big man Rapiael Putney has finally started to match production with his potential. Putney finished with 22 points, 10 boards and five steals in the Minutemen 72-59 victory over Saint Louis in Amherst. Derek Kellogg's team is now 16-5 overall and 5-2 in A-10 play -- which is atop the league.

Player who also deserves improper benefits: Steven Pledger scored 30 minutes to lead Oklahoma to a 63-60 win at Kansas State -- the Sooners' second win over the Wildcats this season.
Player who does not deserve improper benefits: Villanova's Mouph Yarou needs to give Jay Wright more than 11 foul-ridden minutes -- and more than two points and four rebounds if the Wildcats are to do anything the rest of the season.

Player who also does not deserve improper benefits: Weber State lost on a buzzer-beating 3-point by Idaho State's Kenny McGowan. The Wildcats likely wouldn't have been in that position, though, had Damian Lillard not shot 5-for-14 from the field -- getting held to far below his 24.8 points per game.
Numbers don't lie:
1: With Towson getting into the win column, that leaves Binghamton as the lone D-1 team without a victory.
8: Duke big man Mason Plumlee had 15 points and 17 boards, which was the eighth time this season he's recorded a double-double.
878: Jim Boeheim's career victory total. It's also one shy of catching Dean Smith for third on the all-time list.
6: UNC Greensboro interim coach Wes Miller and his team have reeled off six consecutive wins and are now 6-4 in SoCon play.
8:22: Virginia did not score a field goal in the last eight-plus minutes, and only had four field goals in the entire second half, but still beat NC State, 61-60.
33: Miami (Ohio) scored its first 33 points against Western Michigan on 3-pointers.
12-0: Pittsburgh improved to 12-0 against top-10 opponents at the Peterson Events Center after its win over Georgetown.
Other notable results:
Florida took care of Mississippi State in Gainesville, 67-59.
Vanderbilt held off a Middle Tennessee State team that came into the game with a 12-game winning streak. The good news for the Commodores is that Festus Ezeli had a season-high 21 points in the 84-77 victory.
Marquette came back from 18 down and wound up getting an important road win at Villanova. Darius Johnson-Odom had 26 points and Jae Crowder finished with 20 points and 11 boards.
Alabama edged Arkansas in a game that Anthony Grant & Co. could ill-afford to lose. The Crimson Tide are 14-7 and 3-4 in SEC play.
Oklahoma State followed up its big win over Missouri ... with a 15-point loss at Texas A&M.
Louisville held Seton Hall to six points in the first 13 minutes en route to a 60-51 win. Seton Hall has now lost four in a row.
Cincinnati lost its third in a row, this time at Rutgers, 61-54. The Scarlet Knights now have wins over Florida, UConn, Cincinnati and at Pitt.
Purdue's Robbie Hummel hit the go-ahead baseline jumper then contested the final shot defensively, as the Boilermakers beat Northwestern on the road.
Illinois lost its third straight close game, falling at Minnesota in overtime.
Memphis made a nice comeback in the second half to beat Marshall at home, 83-76.
UCF followed up its big home win over Memphis with its second straight loss -- a 13-point defeat at home against Southern Miss.
Tony Wroten made plenty of big plays in the second half, none bigger than his block of Josiah Turner's lay-up at the buzzer, as Washington beat Arizona, 69-67.
UNLV seemed fatigued in overtime against Air Force, but the Runnin' Rebels came back to win, 65-63.
New Mexico rolled over TCU, 71-54.
Doug McDermott had 24 points to lead Creighton over Bradley, 73-59.
Davidson suffered its first Southern loss of the season, 77-74, to Samford.
St. Francis (N.Y.) hammered Robert Morris on the road, moving to 8-2 in the Northeast. Not bad, considering they got off to a 3-8 start in non-conference play.
Temple and Xavier both won.
Kentucky will stay as the No. 1 team in the country on Monday, as the Wildcats dominated LSU.
Notes:
College of Charleston, just a day after Bobby Cremins announced he was stepping away for the rest of the season due to health reasons, lost against Wofford. Interim coach Mark Byington has a difficult task since he's taken over a group ravaged by injuries.
UConn freshman Ryan Boatright was cleared to play Sunday against Notre Dame.
Referee Karl Hess was working his 21st game in the past 28 days. It's inexcusable that the NCAA doesn't do something to take over -- and limit -- the officiating assignments.
Arizona announced that Kevin Parrom has a broken foot and is out for the rest of the season.
Mississippi Valley State, Bucknell, Long Beach State, Nevada, Oral Roberts and Norfolk State all continued to stay unbeaten in conference play.
On tap:
Michigan at Ohio State, 1 p.m. - Trey Burke goes back home and plays against his former high school teammate, Jared Sullinger.
Notre Dame at UConn, 12 p.m. - The Huskies get freshman Ryan Boatright back from his second NCAA suspension.
Iowa at Indiana, 6 p.m. - The Hoosiers need this one to get back on track.
Stanford at Cal, 8:30 p.m. - This one could help determine the Pac-12 regular-season champs.