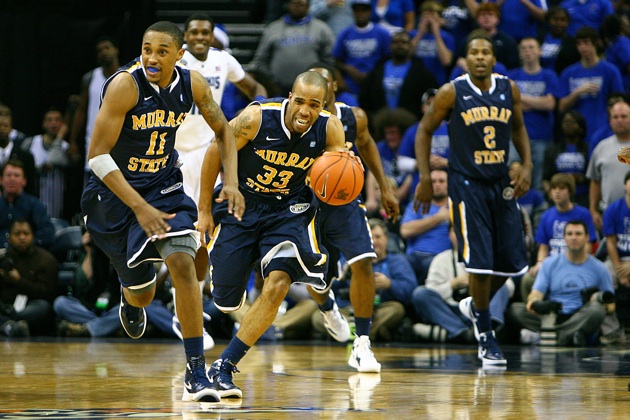 Unbeaten Murray State faces a stiff test when Saint Mary's comes to visit during BracketBusters weekend. (US Presswire)
BracketBusters weekend has lost some of its luster over the past few seasons, as it basically amounts to a random non-conference game for most of the teams involved. However, this season has a chance to break the mold. There are multiple top-25 teams in the event, plus a few others with legitimate at-large potential.
February, February 17
Northern Iowa at VCU (7 p.m., ESPN)
Valparaiso at Loyola Marymount (9 p.m., ESPNU)
Saturday, February 18
Drexel at Cleveland State (11 a.m., ESPNU)
Wichita State at Davidson (Noon, ESPN/ESPN2)
Buffalo at South Dakota State (1 p.m., ESPNU)
Akron at Oral Roberts (2 p.m., ESPN/ESPN2)
Drake at New Mexico State (3 p.m., ESPNU)
Nevada at Iona (4 p.m., ESPN/ESPN2)
Old Dominion at Missouri State (5 p.m., ESPNU)
Saint Mary's at Murray State (6 p.m., ESPN/ESPN2)
UNC-Asheville at Ohio (7 p.m., ESPN3)
Texas-Arlington at Weber State (8 p.m., ESPN3)
Long Beach State at Creighton (10 p.m., ESPN2)
Best Games
No. 18 Saint Mary's at No. 10 Murray State
What's at Stake? Murray State is likely to be undefeated heading into this game, while Saint Mary's is playing like a team that could win a game or two in March. The matchup of Matthew Dellavedova and Isaiah Canaan is going to be tremendous. Is this where the Racers' first loss comes? Both teams are probable at-large selections.
Long Beach State at No. 13 Creighton
What's at Stake? Doug McDermott and Creighton have become one of the nation's best teams this season, with McDermott putting up All-American numbers. Long Beach State has a couple of good wins, but a road victory here could really help the 49ers' at-large resume. Expect plenty of points in this one.
Nevada at Iona
What's at Stake? Not a ton, to be honest. Both teams can really score the basketball, and the guard matchup of Deonte Burton and Scott Machado should be fun to watch. If Nevada does run the table in the WAC, this game could come in handy come Selection Sunday. Iona has had some hiccups, but this is a must-win anyway.
Worst Draws
Wichita State at Davidson: Some people think Wichita State could be the best non-BCS team in the country, and the Shockers are a likely NCAA team. But playing against Davidson will not help their resume – and could only hurt them if they stumble a couple more times.
Akron at Oral Roberts: Oral Roberts is steamrolling through the Summit, sitting comfortably with a 12-0 record. If the Golden Eagles do run the table in the league and lose in the championship, a game against Long Beach State or Wichita State would have come in handy. Instead, they get Akron.
Other Storylines
The Matt Norlander game: My colleague will watch Buffalo and South Dakota State over and over again. It features two of his favorite players in the country, Javon McCrea and Nate Wolters.
Lack of MAAC love: Iona didn't get a resume-booster, while fellow first-place teams Loyola (Md.) and Manhattan didn't get anything resembling a television game.
Weird Colonial treatment: League-leader George Mason was relegated to facing Lamar, while three teams behind the Patriots are in TV games.
Best individual matchup?: The battle on the perimeter between Ohio's D.J. Cooper and UNC-Asheville's J.P. Primm and Matt Dickey will be fun to watch.
MVC/CAA rivalry: Past BracketBusters have featured some high-level matchups between teams in the Colonial and Missouri Valley. This year, we get Northern Iowa vs. VCU and Old Dominion vs. Missouri State. Not the same.
Defensive battle: Cleveland State and Drexel won't wake you up if you're tired on Saturday morning. However, the game will feature two of the better defensive teams in the country.
Don't blink: On the surface, UT-Arlington and Weber State might not tickle your fancy. However, Weber's Damian Lillard is one of the best players in the country and UT-Arlington really gets up and down the court. Should be fun.
Game not to overlook: Valparaiso could be a threat in the Horizon heading into the final month, only a half-game out of first place. Meanwhile, Loyola Marymount has surprised some and already has a nice collection of wins.
Potential conference tournament spoilers? Neither Drake nor New Mexico State has any at-large hopes, and they won't be the favorites to win their leagues. However, both teams have some pieces and could potentially make noise in the conference tournaments.
More College Basketball coverage