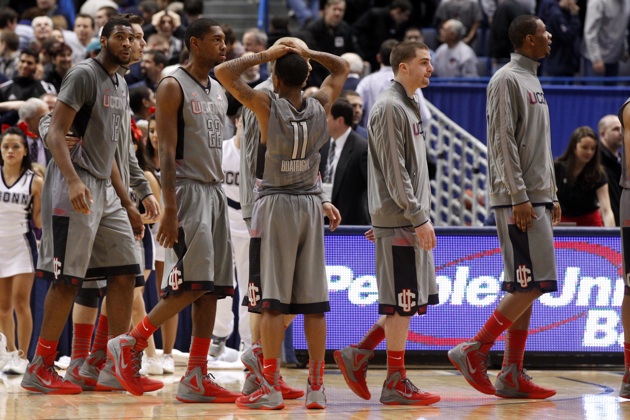 After three straight losses, UConn head coach Jim Calhoun is making changes to his starting lineup. (US Presswire)
Connecticut is mired in a three-game losing streak, going from a national title contender to one that looks like it might have to fight for an NCAA tournament bid in the final month of the season.
The Huskies have lost to six unranked teams, and are just 4-4 in the Big East. With an important game at Georgetown tonight, head coach Jim Calhoun announced he was switching up his starting lineup.
According to John Silver, our UConn RapidReporter, freshman Ryan Boatright and sophomore Roscoe Smith will be inserted into the lineup, with usual starters Shabazz Napier and Alex Oriakhi getting relegated to the bench.
"It's for us to get more quickness, more speed," Calhoun told the Manchester Journal Inquirer. "It's not against anybody. It's for the team. It's what we think is best."
It's clear the Huskies need to get faster on the court. Connecticut is averaging more than 63 possessions per game, but they have played five consecutive games with 61 or fewer possessions. In the halfcourt, the Huskies' offense is stagnant, with multiple possessions involving nothing more than a few passes and then a contested jumper from Napier or Jeremy Lamb.
Connecticut needs to force turnovers and get out in transition to get some easy baskets. The Huskies rank near the bottom of Division-I in defensive turnover percentage, and they have also given the ball away too often. That has created major issues offensively.
"If we don't push the pace, we can't win," Calhoun said, per Silver. "And we can't win over these next 10 games against anybody if we continue to score at the rate we're scoring."
In the first 13 games of the season, Connecticut scored more than one point per possession in every contest, which has helped the Huskies rank No. 21 in offensive efficiency. In the month of January, though, they topped that mark just three times.
Napier has been held to single-digits four times in the past nine games, and his inconsistency is one of the main problems in the offense. Oriakhi is a shell of what he was last year, averaging just 6.5 points and 4.9 rebounds after being a double-double threat a season ago.
Boatright brings speed and playmaking ability to the offense, while Smith provides athleticism and versatile offense at the power forward position. Calhoun is hoping those two can key a turnaround in the final month.
"At this point we're not desperate," Calhoun told the paper. "But we are very, very aware of our situation."