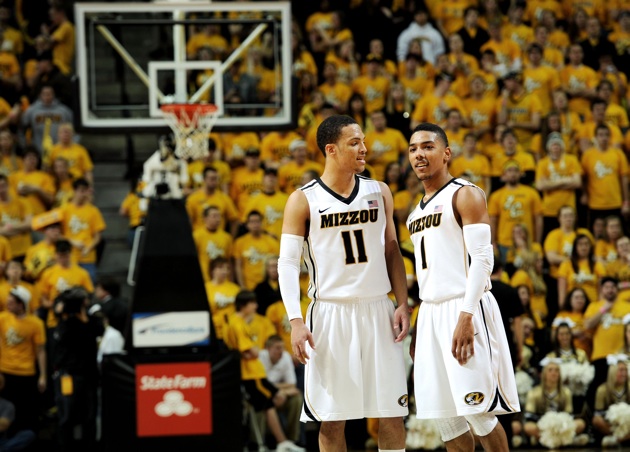 Phil Pressey and Mike Dixon epitomize Missouri's toughness and fearlessness. (US Presswire)
Missouri's supposed to struggle against teams with size. Baylor is supposed to dominate smaller teams.
None of that happened on Saturday, as Missouri knocked down 14 3-pointers en route to a 72-57 win.
Baylor stubbornly stayed in its zone defense throughout the game, even when it was clear it wasn't doing much to stop Missouri's shooters. The Tigers consistently found open gaps in the corners, and exploited the lack of perimeter defense Baylor was showing. Marcus Denmon, Mike Dixon and Phil Pressey combined to shoot 12-for-22 from 3-point range, scoring 51 points between them.
Baylor's size was a major factor early on, but the Bears simply couldn't guard Missouri's guards. How Missouri would match up with Baylor's size populated much of the pregame discussion, but it was the other way around – Baylor couldn't match up with Missouri's four-guard lineup. Perry Jones was invisible for most of the game, while Baylor was unable to knock down jumpers at key points in the game. Gary Franklin, Pierre Jackson and Brady Heslip combined to shoot 2-for-13 from behind the arc for Baylor.
While Baylor possesses as much talent as anyone in the country, it's troubling that Scott Drew's troops can't break through against the top teams in the Big 12. The Bears are now 0-4 against Missouri and Kansas. While that would not be a problem for most teams, it's worth mentioning when you're a Final Four hopeful. Baylor has all of the ingredients to make a deep run in March – except a killer instinct. Jones is the Bears' best player, but he has never been a killer and he disappears in the biggest games. Freshman Quincy Miller was good tonight, but he can't be the only player scoring. Does Baylor have enough mental toughness and intestinal fortitude to beat teams that punch back after taking the Bears' initial punch?
Missouri is at the opposite end of the spectrum. The Tigers are simply fearless. Going against the bigs of Baylor wasn't an issue – they gave up 15 offensive rebounds and were outrebounded by 13. It didn't matter. Missouri makes teams adjust to them, not the other way around. Sure, Kim English is too small to really compete with Jones and Quincy Acy and other big guys inside, but they can't guard him at the other end. Denmon was giving up plenty of height to Miller, but he's also far too quick for the Baylor freshman. For every potential matchup problem, they respond with "well, what about when we're on offense?" And fortunately for the Tigers, they're the most efficient offensive team in the country.
Saturday's game was a perfect contrast. There was one team that maximized its talent and didn't back down, and another one that seemed to shrink on the biggest stages despite its size.