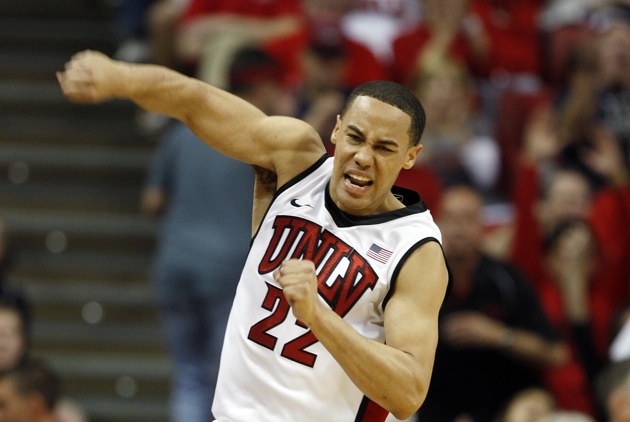 Chace Stanback and UNLV made big defensive plays down the stretch to hold off San Diego State. (AP)
More College Basketball coverage
By Matt Norlander and Jeff Borzello
Game of the Night: Vanderbilt made the charge. It took the lead back from Kentucky in the middle of the second half. Then it didn't score in the final four minutes and seven seconds, and Kentucky remained the best team in college basketball. Wildcats 69, 'Dores 63. Anthony Davis will now wrestle the title of Player of the Year away from Thomas Robinson. That's a debate for later in the week, though. Davis had 16 points and seven blocks. He completely changed how Vanderbilt attacked inside.
The Wildcats only have incalculable Miss State and flaky Florida left to play on the road. Then comes the SEC tournament, where Kentucky fans will smother the joint. The chances this team gets to the NCAA tournament 33-1 are better than not, even if Ken Pomeroy is telling us otherwise.

Game of the Day: OK, we absolutely need a rubber match between San Diego State and UNLV. The first game ended on a Jamaal Franklin layup at the buzzer. Saturday's contest didn't have a buzzer-beater, but it took a Justin Hawkins offensive rebound, free throw and steal in the final 10 seconds to give UNLV a 65-63 win. The Runnin' Rebels went four minutes without a field goal down the stretch, but they constantly came up with huge defensive plays – including Chace Stanback knocking the ball away from Franklin in the final minute. These two are now tied atop the Mountain West standings, along with New Mexico.
Michigan State now clearly worthy of a two seed. (AP)
Spartans Final Four-worthy: Michigan State got a road win at Ohio State and did it by shoving Ohio State's head into the ground. According to this tipster, Ohio State was less than 30 percent in eFG% first time since late 2007 against Texas A&M. A 58-48 outcome has to make you wonder if the Spartans will be ranked higher than the Buckeyes come Monday. What's clear after this: Tom Izzo is in the thick of the Coach of the Year race again.
Also clear: Ohio State can't be considered on the same level as Kentucky and Syracuse and Missouri. Not at this moment. Jared Sullinger was able to score 17, grab 16 rebounds ... but also had 10 turnovers. It was the eighth time this season a player had at least 10 giveaways. The other seven times, it was a guard with all those donations.
Second-tier game with significance: Reminiscent of its series of comebacks in December, Louisville ended its game at West Virginia on a 13-3 run to beat the Mountaineers in the final minute. There was some questionable calls late in the game that had Bob Huggins heated in the postgame – again. Kyle Kuric tied the game on a 3-pointer with two minutes left, then had the game-clinching steal and free throws in the last 10 seconds. West Virginia has now lost five of its last six, putting itself squarely in bubble trouble.
Saturday all-stars
Jeff Withey had 18 points, 19 rebounds and seven blocks to lead Kansas to an 81-66 win over Oklahoma State. He's become such an underrated cog for the Jayhawks.
Notre Dame's Jack Cooley shot 10-for-12 from the field, finishing with 22 points, 14 rebounds and four blocks in a win over DePaul. He's making a case for the all-Big East team.
Andrew Nicholson notched a Dwight Howard-esque performance, going for 21 points and 23 rebounds in St. Bonaventure's win over Duquesne.
Penn State's Tim Frazier nearly racked up a triple-double against Nebraska, putting up 23 points, 10 rebounds and nine assists. He also had three steals.
Numbers don't lie
30. Kent State has now won 30 consecutive games against MAC West opponents dating back to 2008.
3. Prior to today, Virginia hadn't lost this season by more than three points.
22. The number of rebounds for Miles Plumlee, one of the best performances around the tin in Duke history.
12-for-12. Indiana State made the most 3s without a miss in a game in NCAA history.
664. Roy Williams tied John Wooden with 664 wins, 23rd all-time.
23. It's been 23 years since Harvard has won at Princeton.
Other Saturday action worth your attention
Missouri knocked down 14 3-pointers and Baylor stubbornly stayed in its zone all game, as Tigers rolled to a 72-57 win. Read more about this game here.
Murray State has no hangover. The Racers defeated Austin Peay, 82-63.
Temple's an 8-2 A10 team after its home win over Xavier to the tune of 85-72. Owls are working their way toward another seven seed, just like last year. Xavier's tripping over itself on the way to the First Four or the NIT.
Florida State pulled out a five-point win over Miami (Fla.). The Hurricanes have a nice win over Duke from last weekend, but they need more beef on their profile.
Marquette got down 16-4 early to Cincinnati, but the Golden Eagles came back and won in a blowout. They made 32 of their last 53 shots.
Kansas State blew a 13-point lead to Texas, as the Longhorns now throw themselves squarely in the bubble picture. Kansas State is too inconsistent.
Good night, Davidson's at-large hopes. The Wildcats lost to Charleston.
VCU is hitting its stride at the right time, as the Rams went into Old Dominion and knocked off the Monarchs.
In its first game since Austin Rivers' big shot, Duke suffered a bit of a hangover against Maryland – but the Blue Devils made a nice second half run to get a win.
Notes
With Kent State's win over Ball State, the Golden Flashes have now swept the MAC West in four straight seasons.
The Atlantic-10 could be seeing a little bit of separation at the top. Saint Louis went on the road and beat La Salle today – could the Billikens win out?
Alabama suspended Trevor Releford, JaMychal Green and Andrew Steele indefinitely, days after suspended Tony Mitchell. The Crimson Tide are going to have trouble making the NCAA tournament without them.
Will Yeguete was knocked unconscious in Florida's bad, bad home loss to Tennessee. It's been diagnosed as a concussion and due to the 10 stitches in Yeguete's head, he's out indefinitely.