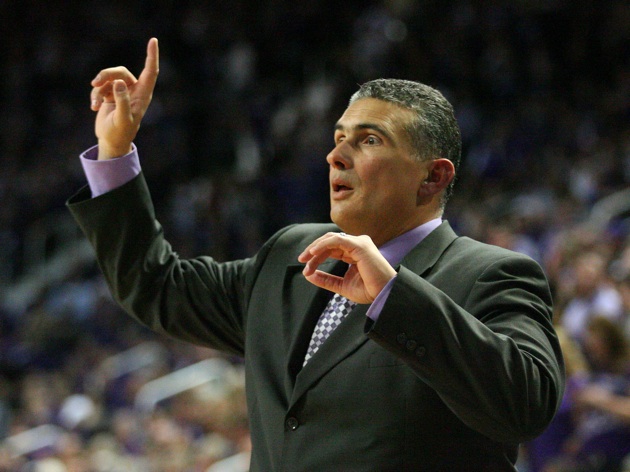 Kansas State likely needs to win of its upcoming three games to feel good about its NCAA hopes. (US Presswire)
Kansas State has felt pretty good about its NCAA tournament hopes for much of the season, but three losses in its last five games has put the Wildcats squarely on the bubble.
The next three games will likely decide the Wildcats' Selection Sunday fate. Unfortunately for them, it's a murderous slate: home vs. Kansas tonight, at Baylor on Saturday, and at Missouri next Tuesday.
Kansas State has lost three of its six league games by three or fewer points, and also blew a 13-point lead over the weekend at Texas to lose by double-digits. Frank Martin would likely feel a lot more comfortable had the Wildcats pulled out some of those close games.
"They're better than what their record is in league," Kansas head coach Bill Self said, according to RapidReporter Rob Cassidy. "They're 6-6 in the league, but they could easily be 8-4 or 9-3. It seems like they've had something go awry in those close games and that's the reason why their record's not as good."
Although Kansas is rolling right now, tonight might be Kansas State's best chance at a marquee win the rest of the season. The Wildcats are 10-2 at Bramlage Coliseum this season, while Kansas has had trouble winning there the past four years. After winning 19 straight at Kansas State, the Jayhawks have lost two of the past four years.
"Both teams are better than the first time we played," Martin said on the Big 12 teleconference today. "Offensively they are a machine right now."
That doesn't bode well for Kansas State, which lost the first meeting between the two teams by 18 back on January 4.
If Kansas State can't get a win tonight, and the Wildcats subsequently strike out against Baylor and Missouri, they will sit at 6-9 in the Big 12 heading into the final two weeks of the regular season. Would they have the resume needed to get into the Big Dance?
Right now, they have an RPI of 51, an SOS of 76 and a horrendous non-conference SOS of 238. They do have a marquee win over Missouri, but after that, it's barren. Alabama was a good win at the time, but the Crimson Tide are faltering of late (and have four players suspended). Long Beach State looks OK, as does Texas.
Kansas State is right on the cutline at this point, but they need to get one of these next three games. If not, the Wildcats are going to be sweating on Selection Sunday.