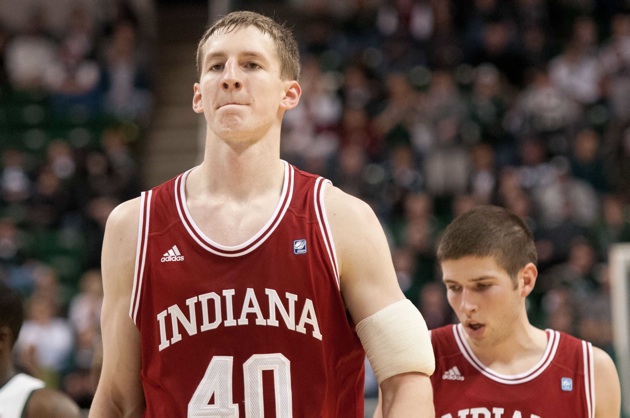 Indiana's Cody Zeller is increasing his production at the perfect time. (US Presswire)
We all know Anthony Davis is going to win all Freshman of the Year awards this season; that's set in stone. But the finalists for the Wayman Tisdale Award were released on Wednesday afternoon, and there were some questionable selections. The finalists were: Davis, Michael Kidd-Gilchrist, Cody Zeller, Austin Rivers and Tony Wroten. The first three are fine – but Rivers and Wroten? Prior to his recent stretch, Rivers had struggled offensively, while Wroten has gaudy numbers but has been inconsistent with turnovers. I can see Rivers, but Wroten is a stretch. Moe Harkless is supremely talented and has put up tremendous numbers, while Trey Burke has Michigan in the Big Ten title hunt. Both could have made a case for inclusion.
The Freshman of the Year rankings are released every Thursday afternoon, shortly after Jeff Goodman and Gary Parrish's Player of the Year rankings.
1. Anthony Davis, Kentucky (Last Week: 1): 14.0 ppg, 9.9 rpg, 4.9 bpg, 65.1 FG%
Davis finally missed a few shots over the weekend against Vanderbilt, but he had one of his best defensive performances of the season, blocking seven shots.

2. Cody Zeller, Indiana (Last Week: 3): 15.7 ppg, 6.4 rpg, 65.6 FG%
Zeller is heating up again at the right time. In the last two games, he totaled 45 points and 12 rebounds on 14-for-19 shooting from the field. He also knocked down 17-of-20 free throws.
3. Michael Kidd-Gilchrist, Kentucky (Last Week: 2): 12.3 ppg, 7.7 rpg
Kidd-Gilchrist has been very inconsistent on the offensive end lately, making five or more field goals in a game just twice since December 31. He has six single-digit scoring games in that span.
4. Moe Harkless, St. John's (Last Week: 4): 15.6 ppg, 8.5 rpg
Despite being the focal point of defenses, Harkless is still managing to carry the young Johnnies offensively. He averaged 17.5 points and 8.5 rebounds in his last two games.
5. Trey Burke, Michigan (Last Week: 5): 14.0 ppg, 3.5 rpg, 4.8 apg
Burke has scaled his offensive production back a bit in the past few weeks, but he still has the Wolverines in Big Ten title contention. Had 14 over the weekend vs. Illinois.
6. Tony Mitchell, North Texas (Last Week: 7): 16.1 ppg, 10.4 rpg, 2.9 bpg, 61.4 FG%
Mitchell took over the freshman rebounding leaderboard, after his 22-point, 20-rebound, five-assist, six-block game against Florida Atlantic. Averaged 19.5 points, 16.0 rebounds and 5.0 blocks in last two.
7. Austin Rivers, Duke (Last Week: 6): 15.0 ppg, 41.0 3PT%
Not surprisingly, Rivers slowed down after his performance against North Carolina. He still managed to knock down three 3-pointers and dish out four assists vs. Maryland.
8. Brad Beal, Florida (Last Week: 10): 14.3 ppg, 6.2 rpg
Everyone on the Gators seems to be hitting a wall – except Beal. He's picking up the slack over the past six games, averaging 16.0 points and 8.7 rebounds. He's been more aggressive.
9. Tony Wroten, Washington (Last Week: 8): 16.4 ppg, 4.7 rpg, 3.5 apg
If only Wroten could find some consistency from the floor and with turnovers. He was too aggressive in a 25-point loss to Oregon, and foul trouble hampered him against Oregon State.
10. D'Angelo Harrison, St. John's (Last Week: 9): 16.5 ppg, 3.5 rpg
Harrison continued his torrid 3-point pace against Georgetown, with five long-range shots, but shot just 4-for-15 from the field in a 30-point loss to Seton Hall.
Notes:
It's getting harder and harder to break into the rankings, with the way the bottom half of the top 10 is playing. Beal is rolling, Harrison is putting up numbers, Mitchell is a beast, and it's tough to take out Wroten.
Texas' Myck Kabongo is going to be a huge key for the Longhorns down the stretch. He averaged 13.0 points and 5.0 assists in his last two games.
Gonzaga's Kevin Pangos is one of the hottest shooters around. He's averaged 24.0 points and 5.5 assists in his last two games, shooting 10-for-13 from 3-point range.
South Florida point guard Anthony Collins has tallied at least six assists in five straight games, and is one of the reasons the Bulls are playing well. Averaging 8.8 points and 6.2 assists in that span.
Arkansas' B.J. Young seems to have found his stroke. He's 21-for-36 in his last three games, averaging 20.3 points in that span. He's inching closer to the rankings.
It's time to stop calling Kentucky's Marquis Teague a disappointment. He's playing more within himself (and the offense) and has really cut back on his turnovers. Averaged 12.5 points and 9.0 assists in his last two games.
If Arizona's Nick Johnson has more games like he did against Utah – 18 points, four rebounds, three assists, three steals and three 3-pointers – look out.
LSU has itself a nice inside-outside duo in guard Anthony Hickey and big man Johnny O'Bryant. Both have been inconsistent, but the light bulb could be coming on.
Jackson State's Kelsey Howard is gunning lately. He's attempted at least 12 shots in eight straight games, including a 5-for-25 effort last week. In that stretch, he's averaging 15.0 points and shooting 33.5 percent.
Freshman leaders – Points: Kyle Vinales, Central Connecticut State (17.8); Rebounds: Tony Mitchell, North Texas (10.4); Assists: Dylan Garrity, Sacramento State (6.6)