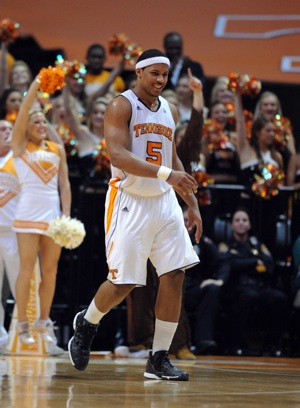 Jarnell Stokes' arrival has revitalized Tennessee's at-large chances. But temper your hopes for now. (US Presswire)
As you know by now, my colleague Matt Norlander is at the Mock Selection Committee event in Indianapolis. He took a picture this morning of the group's at-large board – and Tennessee was a team under consideration.
Combine that with the fact several people in the media have been pushing the "Tennessee as a potential at-large team" train, and we have a full-blown situation here.
Tennessee?? The Volunteers currently sit one game over .500 with a 1-9 record away from home, four sub-100 losses and an RPI in the triple digits. Yes, one game over .500.
It seems that the reasoning for Tennessee's chances gaining steam over the past few weeks has been the arrival of freshman forward Jarnell Stokes. Well, the team is 5-4 with him in the lineup, and he played a grand total of 11 minutes in the second win over Florida – he wasn't on the team for its first Gators victory. With Stokes on the team, Tennessee lost at Georgia and was obliterated by Vanderbilt (and Kentucky, but everyone gets obliterated by Kentucky). It's not like the team is suddenly some juggernaut with him in the lineup. The Volunteers are one game above .500 with him in the lineup, and one-game above .500 with him out of the lineup.
There is still plenty of work to be done – but Tennessee has chances.
It starts this weekend with a road trip to Alabama. Three of the final five are on the road, and they end the season with a home game against Vanderbilt. If the Volunteers can go 4-1 in their final five games, they will have a chance. They need to start winning on the road, and beating Alabama or Vanderbilt would be another top-50 win. Moreover, 4-1 in the last five would give them eight wins in nine games heading into the SEC tournament.
With no one seeming to want a potential fifth bid from the SEC, Tennessee could step forward and make a run.
But the Vols shouldn't be in the mix just yet.