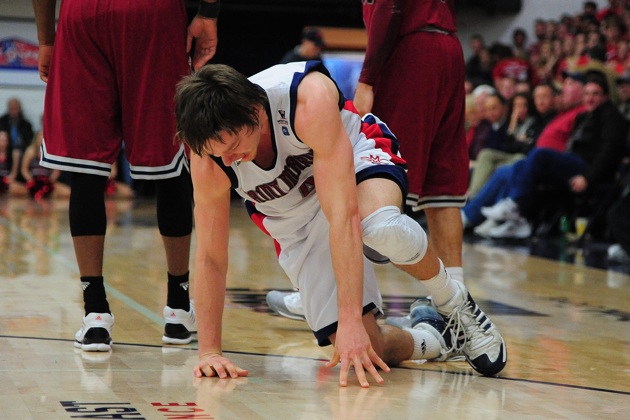 Saint Mary's guard Matthew Dellavedova (ankle) will be a game-time decision against Murray State. (US Presswire)
By Jeff Goodman
You know that huge matchup we were all excited about between Saint Mary's and Murray State. It's turned out to potentially be a yawner like most of the other BracketBusters.
Murray State is no longer undefeated, but this was still supposed be a measuring stick for a Racers team that remains somewhat of a mystery. But now the Gaels limp into the CFSB Center in Murray without starting guard Stephen Holt and potentially without star guard Matthew Dellavedova.
Saint Mary's coach Randy Bennett told CBSSports.com that Dellavedova, the team's top player, will be a game-time decision with an ankle injury, and as of now it looks "doubtful." Holt, one of the team's most complete players, is out for the next couple weeks after suffering a partially torn MCL.
Saint Mary's comes to Murray on a two-game losing streak following a 11-0 start in WCC play. There was the setback at Gonzaga, which wasn't much of a surprise, but then came a home loss to Loyola Marymount. The Racers are 25-1 with the lone loss coming earlier this month at home against Tennessee State.
When this matchup was announced, it was the heavyweight bout for the BracketBusters. The WCC's elite team and one on the verge of cracking the Top 10 against the nation's last remaining team without a loss.
The Gaels are struggling, No. 16 Murray State is no longer unbeaten and we may not even have the stellar point guard matchup between Racers guard Isaiah Canaan and Delly.
However, it's still an important game for both teams -- maybe more so for host Murray. The Racers will need to win this one, especially if Dellavedova doesn't play. Despite its lofty ranking, Canaan & Co. can ill-afford a slip-up here with road contests against Tennessee State and Tennessee Tech to close out the regular-season.
A couple more losses, in addition to coming up short in the Ohio Valley tournament, could mean sweating it out on Selection Sunday.