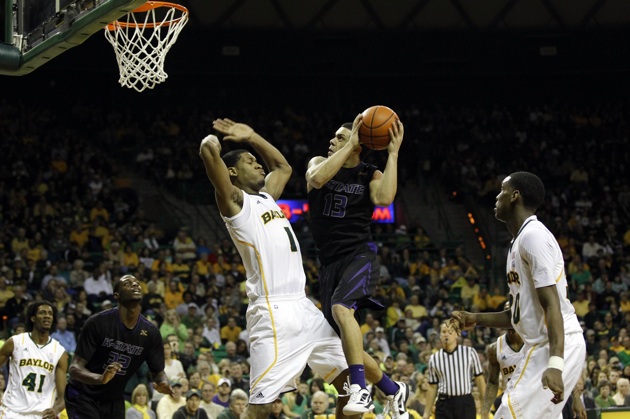 Kansas State might have been the biggest winner of the day, getting a marquee road win at Baylor. (US Presswire)
While BracketBusters is getting most of the attention this weekend, it's also a BubbleBurster type of weekend. According to most projected brackets, there are still 10-12 spots that could go to any number of teams. Of course, most of those teams are in action today. There are bubble battles and chances for marquee wins across the board, so keep it locked here for all your bubble action.
Note: This page will be updated all day, with bubble discussion and analysis.
WINNERS:

New Mexico: The win at San Diego State might have vaulted the Lobos into a more comfortable position -- but Saturday's victory over UNLV locks it up. Moreover, New Mexico has the inside track to a regular-season title in the Mountain West after knocking off the SDSU and UNLV in a matter of days. This is a team that can do some damage in March. The Lobos have Drew Gordon on the inside, plenty of shooters on the perimeter, a 10-deep rotation and they play really good defense.

Kansas State: I wrote last week that Kansas State needed to get one its "big three" games: Kansas, Baylor and Missouri. On Saturday, the Wildcats went into Waco and came out with a huge resume-boosting win over Baylor. They now own wins over Missouri and Baylor, along with decent scalps against Alabama, Texas and Long Beach State. Moreover, today's win will likely vault Kansas State into the top 50 of the RPI, where it's a lot more comfortable. At 7-7 in the Big 12, the Wildcats are in much better shape than they were this morning. Really, really good win.

Miami: The Hurricanes were one of the last teams in the bracket this week, and they couldn't afford to lose to Wake Forest at home. They obliged, pulling away in the second half for a 74-56 win. At 7-5 in the ACC, they continue to inch ahead of North Carolina State in the ACC argument, despite losing to the Wolfpack. The win over Duke remains the only top 50 win for the Hurricanes, but it's not a bad trump card come Selection Sunday. They need to beat Maryland on the road next week, then comes two tough ones vs. Florida State and at NC State.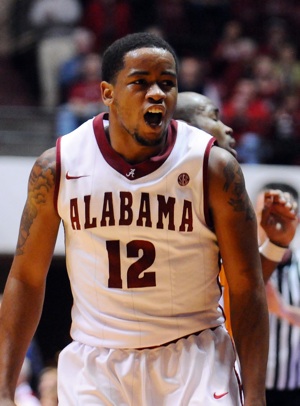 Alabama ended its two-game losing streak and stayed in the field by beating Tennessee. (US Presswire)
Alabama: The Crimson Tide will remain an interesting case as long as they're not at full strength. With that said, though, they stayed in relatively comfortable position even without their studs. On Saturday, they welcomed in a hot Tennessee team and dominated the second half to win, 62-50. Alabama only has one marquee win -- over Wichita State -- but its victory over Purdue helps in bubble comparisons. If the Crimson Tide can go 3-1 down the stretch, they will finish above .500 in the SEC and be in pretty good shape.

Iowa State: It wasn't of the same caliber as Kansas State, but the Cyclones handled their business on Saturday in a 80-69 win over Oklahoma at home. Interestingly, with the win and Baylor's loss, the two teams are now tied for third-place in the Big 12 at 9-5. The win over Kansas a few weeks ago really helps matters, although only three top-100 wins and the lack of road victories remain trouble spots. The three-game stretch to finish the season -- at Kansas State, at Missouri, vs. Baylor -- will decide their fate.

Washington: What the Pac-12 has been looking for all season is some separation at the top of the league standings. Washington's win over Arizona on Saturday provides some. If California wins this weekend, both teams will have a two-game lead on the rest of the conference -- exactly what the conference needs. In terms of the Huskies' at-large hopes, the victory now gives them a season sweep of Arizona, which is basically the only thing boosting up Washington's resume at this point. Washington now has three road games to finish the season, but the Huskies needed this one.

Cincinnati: Despite the Bearcats' horrendous computer profile, they're still in at-large consideration thanks to their quality wins. They picked up a monster bubble victory on Saturday, getting off to a hot start against Seton Hall and holding off the Pirates down the stretch. Cincinnati had already beaten Georgetown, Notre Dame and Connecticut, and Saturday's win puts them at 5-5 against teams ranked in the top 100. The bad losses are certainly bringing the profile down, but 9-5 in the Big East keeps the Bearcats in the mix for now. Big chance at home against Louisville next week.

Saint Louis: Isn't it about time we consider the Billikens a step ahead of the bubble? The win over Fordham wasn't profile-boosting by any stretch, but Saint Louis is now 10-3 in the Atlantic-10, with a top-25 RPI. They only have one top-50 win, over Saint Joseph's, but they've also beaten fellow bubblers Washington, Xavier and Dayton. They're 6-5 against the top 100 and have zero bad losses. Barring a collapse, the Billikens will make the Dance.

Saint Joseph's: The Hawks kept their at-large hopes alive by going into Washington D.C. and beating George Washington, 73-66. They don't have an eye-popping at-large profile, but they do own a win over Creighton and also defeated Dayton (and a rapidly-improving Drexel team). For now, the Hawks are on the outside looking in, but 8-5 in the A-10 looks solid. Next Saturday's home game against Temple will be huge for their Selection Sunday chances.

Northwestern: The Wildcats had a couple of road losses heading into the weekend, but they bounced back nicely with a double-digit victory over Minnesota. The win separates them somewhat from Illinois and Minnesota, putting them at 6-8 in the Big Ten. There is still plenty of work to be done, though, as Northwestern sits at 2-8 vs. the top 50. The Wildcats get both Michigan and Ohio State at home down the stretch, so there are chances to add to their marquee win category, which currently includes Michigan State.

BYU: With Saturday's win over Santa Clara, the Cougars have now won five in a row and improved to 11-3 in the West Coast Conference. As other bubble teams around BYU start to lose, the Cougars' profile looks better and better. They are 10-3 away from home, and they have a top-20 RPI win over Gonzaga. On Thursday, BYU heads to Spokane in a huge game against Gonzaga -- the Bulldogs could be playing for a chance to share the league title, while BYU would lock up a bid with a win. If the Cougars lose that one, we will reassess.

UCF: Despite their loss to Southern Miss during the week, the Knights have quietly played themselves back into the at-large picture. They kept those hopes alive with a 64-55 win over East Carolina on Saturday. UCF still sits at just fourth in Conference-USA, so it needs to break into the top three to have a better chance, but wins over fellow bubblers Memphis and Connecticut are decent. Two sub-100 losses do hurt, though. A road game at Memphis on Feb. 28 could be a make-or-break contest.

Xavier: This was a must-win for Xavier, which could have dropped to fifth in the A-10 pecking order with a loss at home to Dayton. However, Tu Holloway came through in the clutch and the Musketeers got an overtime win over the Flyers. The Musketeers are third in the Atlantic-10, and it gives them another nice bubble win, to add to Saint Joseph's, Cincinnati and Purdue. Throw in a victory over Vanderbilt, and Xavier could be in decent shape right now. Road games at Massachusetts and Saint Louis in the final four games make things interesting.

Colorado State: In what boiled down to a Mountain West elimination game, the Rams knocked off Wyoming, avenging a 16-point loss earlier this season. They get back to .500 in the conference and win for only the third time in their last eight games. However, the upcoming three-game stretch will decide their fate: vs. New Mexico, at San Diego State, vs. UNLV. If they can get wins in two of those three, the Rams could be an interesting case heading into the conference tournament.

California: The Golden Bears kept pace with Washington in the Pac-12 standings, rolling in the second half over Oregon State. Cal still has the best overall profile in the conference, with good computer numbers and a 7-4 record against the top-100. They do face three road games to finish the season, though, and getting separation at the top of the league is important to getting an at-large bid.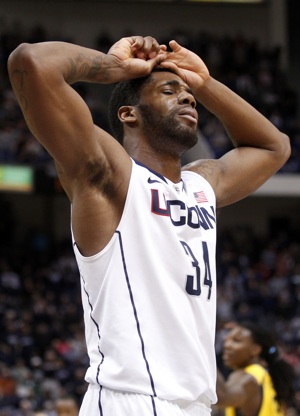 Connecticut is in serious bubble trouble after losing nine of its last 13 contests. (US Presswire)

LOSERS:
Connecticut: The Huskies dominated DePaul during the week, but missed out on a chance to solidify their at-large standing against Marquette. The Huskies got down early and never got closer than four in the second half en route to a 79-64 loss. They now drop to 6-8 in the Big East and 5-6 against teams ranked in the top 50. However, there's no one marquee win that puts the Huskies over the top. Florida State, Notre Dame and Harvard are good – but Marquette would have been a huge profile-booster. UConn is in serious trouble heading into the final four games – they might need to beat Syracuse next weekend.

Illinois: The Fighting Illini have officially packed it in. After not pulling a win out earlier in the week against Purdue, Illinois went into Nebraska and just got destroyed. The Cornhuskers went on a 31-4 run that ended up being a 52-12 stretch. The final was 80-57, and that wasn't even indicative of how bad Illinois played in the final 20 minutes. Bruce Weber sounded defeated after the loss to Purdue; one can only imagine how he feels now. The Fighting Illini still have really good wins over Michigan State, Ohio State and Gonzaga, but they are now 5-9 in the Big Ten and have lost eight of their last nine games. Barring a 3-1 finish with games against Ohio State, Wisconsin and Michigan, Illinois is finished.

Mississippi State: The Bulldogs have officially entered a danger zone. A week and a half ago, it looked like Mississippi State was primed to rattle off some victories and cement itself into the dance -- now, it has lost three in a row after the latest setback to Auburn on Saturday. After being considered in good shape for much of the season, a closer look reveals that the Bulldogs are in serious trouble. There's the win at Vanderbilt, a couple of nice wins against West Virginia and Alabama, but not much else. They're now 6-6 in the SEC, 4-6 away from home and have two sub-100 losses. This week is enormous: home vs. Kentucky, and at Alabama.

North Carolina State: After blowing a 20-point lead to Duke on Thursday, the Wolfpack were one of the last teams considered for projected brackets on Friday. They needed to bounce back and get a quality win against Florida State on Saturday. That didn't happen. Florida State took command early in the first half and never looked back, hammering NC State, 76-62. The Wolfpack's resume doesn't have too many good wins, with Texas and Miami (Fl.) leading the way. A win today (or Thursday) would have boosted the profile. Now, this week's game at home against North Carolina amounts to a must-win.

Memphis: Despite not having an overwhelming resume, the Tigers avoided the "real" bubble by beating the teams they were supposed to beat and not suffering bad losses. Well, they suffered a bad loss on Saturday, falling 60-58 to UTEP at home. It was the Miners' first road victory of the season. Taking a closer look at Memphis' resume, and the loss could be trouble. UTEP was ranked No. 183 in the RPI heading into Saturday, and gives Memphis its first true bad loss of the season. Combine it with a 2-6 record vs. the top 50, and Memphis is far from a lock at this point.

Arizona: The Wildcats had plenty of at-large momentum in recent weeks, moving past Washington in the bubble pecking order. However, they needed to knock off the Huskies on the road on Saturday -- but they fell short, 79-70. Arizona drops to fourth-place in the Pac-12 at this point, and its resume is still based off one win: at California. The Wildcats need more beef to the profile, meaning a trip to the Pac-12 championship game might be necessary.

Seton Hall: Even though the Pirates' had a six-game losing streak earlier in the Big East season, their resume was still better than many bubblers. In a huge bubble battle against Cincinnati on Saturday, though, they fell short. Seton Hall drops to 7-8 in the Big East, heading into next week's game against Georgetown. If the Pirates beat the Hoyas, they're back in good shape. However, the four good wins -- Connecticut, West Virginia, Saint Joseph's, Dayton -- aren't exactly "marquee."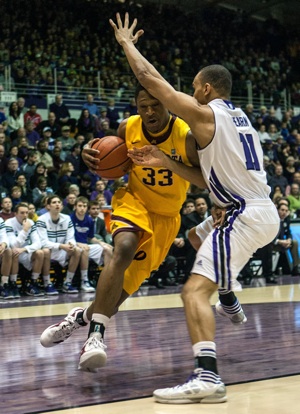 Minnesota couldn't get past Northwestern, and now faces a difficult path to an NCAA bid. (AP)
Minnesota: The Golden Gophers had a golden opportunity to boost their at-large profile on Saturday, but they couldn't stop Northwestern's outside shooting and lost, 64-53. It was Minnesota's third straight loss and dropped the Gophers to 5-9 in Big Ten play. What makes it worse is the next three games: vs. Michigan State, vs. Indiana, at Wisconsin. Minnesota might need to sweep those three -- or at least nab two of three -- to have a chance again. They're 2-6 vs. the top-50, with a road win at Indiana highlighting the resume.

Texas: With Kansas State and Iowa State winning today, the last thing Texas needed was a loss to Oklahoma State. So the Longhorns went to Stillwater and lost to Oklahoma State, 90-78, as Keiton Page dropped 40 points for the Cowboys. The loss drops Texas to 7-7 in the Big 12, with some separation between itself and the two teams tied for third place. Texas is only 3-8 against the top-100, but wins over Temple, Kansas State and Iowa State are pretty good. The Longhorns face Baylor at home next week; that has become a must-win for Rick Barnes' troops.

Ole Miss: The Rebels needed to bounce back from getting destroyed by Vanderbilt earlier in the week. Playing Kentucky wasn't the answer. They hung with the top-ranked Wildcats for a half, but Kentucky just steamrolled in the second half en route to a 77-62 win. Ole Miss is now just 1-7 against top-50 teams, with the best wins coming over Miami (Fl.) and Mississippi State. The Rebels are ninth place in the SEC and 3-10 vs. the top 100. That doesn't get it done.

Arkansas: The Razorbacks' homecourt dominance was enough to keep them in the at-large conversation, but that's no longer the case. Florida absolutely annihilated Arkansas today in a 98-68 victory, despite freshman B.J. Young going for 31 points in the loss. The Razorbacks drop to 5-7 in the SEC and are still 0-8 away from home. With losses in five of their last seven games, and four sub-100 losses, Arkansas has a long way to go to get back in the at-large hunt. It was fun while it lasted.

Wyoming: If the Cowboys could have swept Colorado State, they would still be in the mix for a fourth at-large coming out of the Mountain West. However, they lost by eight, and now sit at 4-6 in the conference. Moreover, they still have road games at San Diego and UNLV remaining. Anything short of an unbeaten run to the league title game won't be enough.

Dayton: The Flyers' plethora of decent wins had kept them hanging around the last few spots in the bracket for a couple of weeks now. A win at Xavier would have certainly boosted their profile heading down the stretch. Kevin Dillard and co. couldn't pull it out in overtime, though, and now are in big trouble. Saint Joseph's might have passed them in the pecking order, and they certainly did in the standings. Dayton is now eighth in the league table, and the bad computer numbers don't help. Wins over Temple, Saint Louis and Alabama only get you so far.

Southern Miss: This was a bad day for Conference-USA. Southern Miss could have taken control of the conference, as Memphis lost at home to UTEP earlier in the day. So the Golden Eagles went out and lost to Houston. Going into the weekend, Southern Miss should have felt pretty confident about its at-large hopes. It has a great RPI and wins over Memphis and Colorado State. Looking closer, though, the wins aren't great and losses to Houston and UAB are bringing the resume down. They need a regular-season title.

Long Beach State: If the 49ers lose in the Big West conference tournament, their loss late to Creighton could be the game that keeps them out. To be clear, they do deserve a bid. But what will the Selection Committee see? The team that dominated the Big West? Or the one that missed out on several chances in the non-conference season? There's really only one good win on the resume, Xavier, as the victory over Pittsburgh doesn't look as good as it used to. With the way the 49ers are handling their league, though, this will be a moot point.