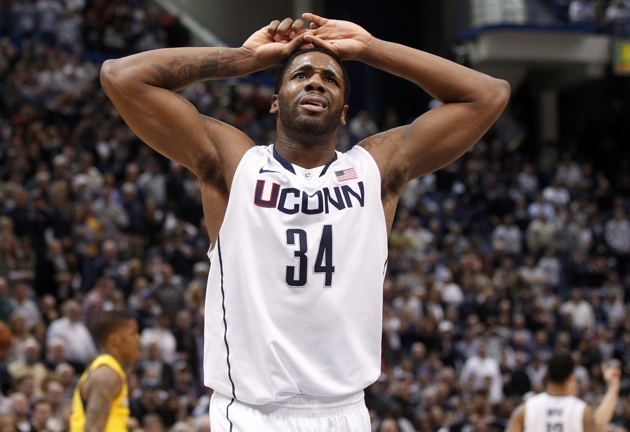 Connecticut missed out on a chance to get a marquee win today against Marquette. (US Presswire)
By Jeff Goodman
OK, I'm finally ready to give up on the UConn Huskies. It took me longer than most after watching the program rise from the dead a year ago and reel off 11 consecutive games to win the Big East tourney and national title.
The Huskies' proverbial backs were against the wall on Saturday afternoon. Their 69-year-old coach, Jim Calhoun, remained on a medical leave of absence with a serious back injury.
If there was ever a time to come out with a sense of urgency, this was it. Yet UConn came out flat, looked disinterested in the first half -- and it cost the Huskies yet again.
This is a team that was picked in everyone's Preseason Top 10 -- even without Kemba Walker. The Huskies won it all and returned Jeremy Lamb, Alex Oriakhi, Shabazz Napier, Roscoe Smith and Tyler Olander from last year's improbable national championship team.
Then Calboun added one of the nation's top recruiting classes in Andre Drummond, DeAndre Daniels and Ryan Boatright.
All the talk revolves around the lack of leadership -- and much of it is valid. Lamb and Drummond are too quiet, Oriakhi didn't play enough to be a viable candidate and Napier just isn't ready to assume that role. But there are plenty of far less talented teams without great leaders who enjoy more success than this year's UConn team, one that has now fallen to 16-10 overall and 6-8 in Big East play.
This team doesn't play smart. This team doesn't play together. They don't play with heart or intensity.
They were outrebounded by a Marquette team that was without its top two post plays on Saturday on their own court.
Now, with just four games remaining in the regular-season, the Huskies will have to reel off three of four to finish at .500 in conference play. The slate starts at Villanova, home against Syracuse, at Providence and concludes with a home contest against Pittsburgh.
They all appear, on paper, to be winnable games. They also appear, on paper, to be losable ones for this group.
I'd be more shocked if they went 4-0 than 0-4.
No one knows when -- or even if -- Calhoun will return. I'm not sure it matters with this group. Lamb and Drummond -- two likely lottery picks -- look as though they are out for a walk in the park at times rather than playing Big East basketball. Boatright may be talented, but he appears more interested in getting his own numbers than winning ballgames. Oriakhi's confidence is like a see-saw after Calhoun tossed him in the doghouse early this year. Smith and Daniels have no understanding of their roles and we're nearing the end of the season.
There's no shame in losing to a Marquette team that is in second place and within striking distance of Syracuse in the Big East standings -- even in Hartford.
But what was shameful was the effort this UConn team displayed for much of the contest, the lack of fight and intensity.
The Huskies miss Kemba and Calhoun, but more than anyone thing they miss a sense of toughness, intensity and pride.