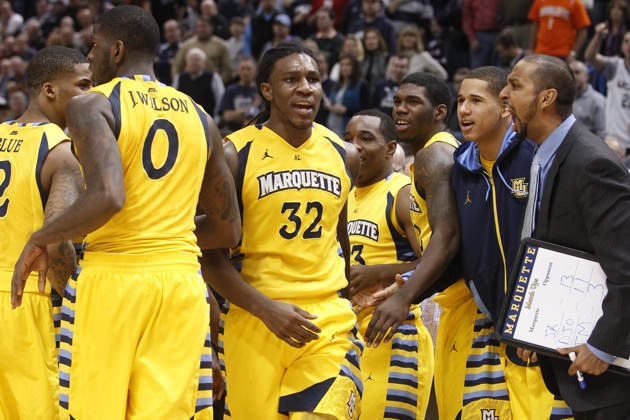 Jae Crowder's ability to create matchup problems means Marquette will be a difficult opponent come March. (US Presswire)
No more life on the bubble for Marquette.
The Golden Eagles have lived on or around the bubble for each of the last few seasons, needing to either make a late run in the regular season or overcome a late-season collapse to make the Big Dance.
That won't be the case this season, as Buzz Williams' club has won 10 of its last 11 games and is likely to finish either second or third in the Big East standings.
Moreover, it's looking like the Golden Eagles could be a legitimate threat to reach the Final Four. They don't have as much size and inside production as some other teams; they don't have a ton of depth; and they get off to slow starts far too often. With all that said, there are several teams with the chops to make a run to New Orleans this season, and Marquette is one of them.
It starts with the duo of guard Darius Johnson-Odom and forward Jae Crowder. Johnson-Odom is a strong guard who is capable of scoring in multiple ways, while Crowder is one of the most difficult individual matchups in the country. Crowder is the biggest player in the lineup and he's often undersized, but he makes up for it with his inside-outside ability at the other end.
Marquette has plenty of playmakers on the perimeter. Junior Cadougan is capable of running the offense and getting his teammates open shots, and Todd Mayo creates his own looks and gets to the rim. Vander Blue has really come on strong lately. The key lately has been Jamil Wilson, who stepped up when Davante Gardner was injured. Wilson has averaged 11.6 points and 5.3 rebounds in his last eight games.
Without Gardner – and Chris Otule, who was injured earlier in the season – Marquette has had to play undersized during its recent stretch. The Golden Eagles' defensive rebounding has been about the same, though, and that's the team's biggest weakness.
They more than make up for it at the other end of the floor. With at least four guys who can hit the 3-point shot on the court at once, Marquette creates an enormous number of matchup problems. The Golden Eagles love to force turnovers and push the ball, and there aren't many teams that can keep up with them. In a halfcourt setting, they know how to get into the lane and either finish at the rim or draw fouls.
Only Kentucky and Syracuse have shown enough consistency to be considered favorites to reach the Final Four, and there are a dozen teams capable of making a run to New Orleans. With the way Marquette is playing lately, the Golden Eagles are now part of that group.
It's certainly better than the bubble.