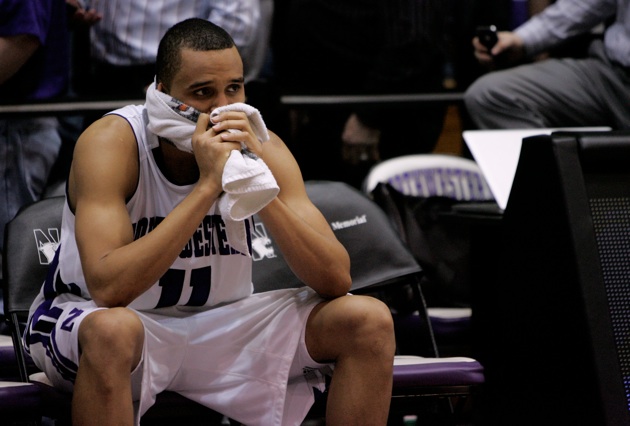 Northwestern had a chance to solidify its resume against Michigan. Instead, the Wildcats fell in overtime. (US Presswire)
This week is void of bubble-bubble battles for the most part, but that doesn't mean there aren't any important games for those teams on the fence. Tuesday's slate features seven bubble teams facing ranked teams, while two other bubblers are on the road and another team or two need to solidify their resumes by avoiding a bad loss. Simply put, this is a monster night for bubble squads.
Note: This page will be updated throughout the night, with bubble discussion and analysis.
WINNERS:

Seton Hall: The first of what could be several big bubble wins tonight. The Pirates came out with intensity and energy, and never let up en route to a 73-55 win over Georgetown. The win gives the Pirates a marquee win on which to hang their hat, a win that they desperately needed. Prior to tonight, the best wins for Seton Hall were over Connecticut and West Virginia. Moreover, the victory improves Seton Hall to .500 in the Big East, with a home game vs. Rutgers and a road trip to DePaul remaining. The Pirates are feeling confident right now.

Kansas State: And it's time to lock the Wildcats up. After winning at Baylor to put themselves in good position, Kansas State went into Columbia and handed Missouri its first home loss of the season, 78-68. It also punches the Wildcats' ticket to the NCAA tournament. They now have two wins over Missouri and a win over Baylor, as well as victories over Long Beach State, Alabama and Texas. The two losses to Oklahoma look strange, but that will only matter for seeding now. Kansas State is in.

Colorado State: The Rams are certainly alive on the NCAA bubble, after taking down a red-hot New Mexico team. Combined with their win over Wyoming on Saturday, Colorado State is back above .500 in the Mountain West, and the Rams' computer profile is only going to get better. Coming into the night, the RPI was 30 and the SOS was 13 -- that will improve after the win over the Lobos. This gives Colorado State two good wins on the resume, with the other coming against San Diego State. The biggest problems right now are the 2-8 road record and the three sub-100 losses. However, with games against UNLV and SDSU coming up, the Rams have chances. Win one, and they could be in good shape.

LOSERS:
Northwestern:
Oh, so close. The Wildcats -- in perhaps the biggest game in program history -- had chances to beat Michigan in regulation, but fell short. The
Wolverines dominated the overtime en route to a win over Northwestern
. The loss is heartbreaking for the Wildcats, which was one of the last teams in the field this week and really could have helped their resume with another marquee win. Moreover, instead of moving to .500 in the Big Ten, Northwestern drops to 6-9. Bill Carmody's club still has to travel to Penn State and Iowa, as well as play host to Ohio State. The Wildcats might need a win over the Buckeyes to look attractive to the Committee. Wins over Michigan State and Seton Hall might not be enough.
Mississippi State
: It was a heck of an effort from Mississippi State on Tuesday night against Kentucky, but the Bulldogs simply couldn't make enough plays at either end of the floor in the second half. While they played well, it's now four losses in a row for Rick Stansbury and co. A couple of weeks ago, Mississippi State was looking like a potential Sweet 16 team and a No. 6 seed or so. Now, their at-large hopes could hinge on a road trip to fellow bubbler Alabama this weekend. They're now 6-7 against the top 100 and 6-7 in the SEC. Rodney Hood's injury could be something to watch as well.


Xavier:
So much for taking advantage of the momentum the Musketeers built after the overtime win over Dayton. Xavier went into Amherst on Tuesday night and never seemed overly competitive against Massachusetts, losing 80-73. A win would have helped the Musketeers feel more confident; instead, they're back in trouble. The best win remains over Vanderbilt, although the victories against fellow bubble teams Purdue, Cincinnati, Dayton and Saint Joseph's could potentially help on Selection Sunday. A win at Saint Louis next week would be nice.
North Carolina State
: Last week, North Carolina State was on the verge of really solidifying its at-large profile, leading by 20 at Duke. After a
loss to North Carolina on Tuesday
, the Wolfpack have lost three in a row and are really struggling. They needed a marquee win for their profile -- the best wins right now are over Miami (Fl.) and Texas -- and they struck out all three times in the past week. NC State now needs to win its final three games of the regular season and then pick up a big win over someone in the ACC tournament.

Miami (Fl.):
The Hurricanes had stayed in the field by simply avoiding losses to non-NCAA teams. That ended on Tuesday, as the
Hurricanes blew a second-half lead and lost to Maryland in the final minutes
, 75-70. Turnovers by Durand Scott and Shane Larkin could come back to haunt them come Selection Sunday. Miami is only 1-6 against the top 50 of the RPI, and it only has one truly "good" win -- at Duke on Super Bowl Sunday. The Hurricanes host Florida State and then travel to North Carolina State next week in a huge bubble battle. Miami likely needs to win both.
Illinois:
If you didn't think the Fighting Illini threw in the towel during their miserable blowout loss at Nebraska over the weekend,
Tuesday night's loss to Ohio State should have done the trick
. The Buckeyes got out to a 28-8 lead and never looked back, getting revenge for an earlier loss with a blowout win. Illinois is now essentially lifeless in terms of the NCAA tournament. The Illini have lost nine of its last 10 games and are five games below .500 in the Big Ten.