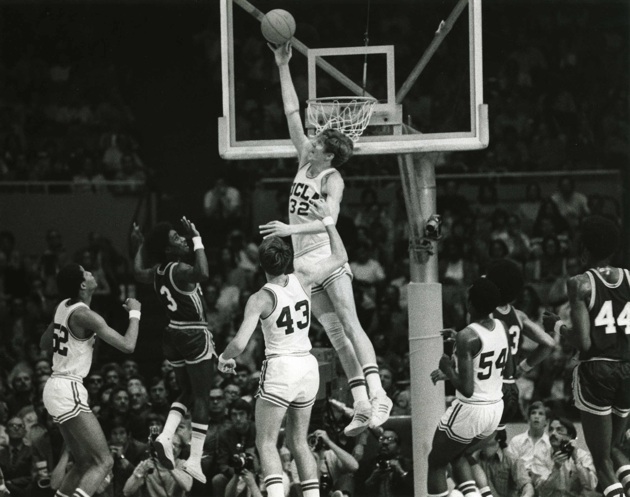 Players of Bill Walton's caliber wouldn't stay in school for more than one year in the modern era. (US Presswire)
In doing research for the top 16 college basketball teams of all time, a common thread developed for me – and it wasn't surprising. The biggest difference in comparing teams from the 1950s, 60s and 70s to teams from the 2000s was obvious: early-entry.
The juggernaut UCLA teams of the John Wooden era got to have Lew Alcindor and Bill Walton for three years, and the Bruins clearly reaped the benefits of those careers. The same goes for Bill Russell and San Francisco, or the undefeated Indiana team that featured Scott May and Kent Benson.
What if the 2004 Connecticut team featuring Ben Gordon and Emeka Okafor had returned its key pieces in 2005? That team lost six games during Gordon and Okafor's junior season, but they would have been dominant the next year. And the 2009 North Carolina Tar Heels that steamrolled through the NCAA tournament? What if Ty Lawson, Wayne Ellington and Ed Davis had all returned in 2010?
Because players leave early more often during the last decade, we don't get to see players reach their full potential in college. As a result, the talent gap diminishes between the haves and have-nots and we don't see the dominance we saw from champions 40 and 50 years ago.
Imagine this year's Kentucky team – with Anthony Davis, Michael Kidd-Gilchrist, Terrence Jones, Marquis Teague, etc. – returned nearly all of its key parts next season. And added Archie Goodwin, Alex Poythress and either Shabazz Muhammad or Nerlens Noel. That team wouldn't stand a good chance of going undefeated? But there's zero chance we see anything like that; it just doesn't happen.
The 1972 UCLA team won games by an average of 30.3 points. 1968 UCLA hammered teams by an average of 26.0 points. The 1996 Kentucky team had nine future NBA players on its team. 1991 UNLV failed to win a regular-season game by at least 10 points just one time.
We don't see teams like that anymore, because the early-entry rule has essentially decreased the number of stars one team can have at a specific time. We'll see the George Masons and the VCUs and the Butlers make Final Four runs, because parity is far more prevalent in college basketball than it was a half-century ago. You didn't see Cinderella runs every season in the NCAA tournament, because the top teams in the country were head and shoulders above everyone else -- and there was no "great equalizer," like the 3-point shot.
Upsets are a normal occurrence nowadays. That wasn't the case with some of the other great teams. San Francisco won 55 games in a row; Indiana went undefeated; UCLA won 10 championships and made 12 Final Fours during a stretch. No one was picking against the 1969 Bruins, a season that was essentially a victory lap for Lew Alcindor's career.
The most dominant teams of the past decade – 2004 Connecticut, 2009 North Carolina, 2007 Florida, 2005 North Carolina – were all vulnerable. Those four teams lost a combined 19 games.
Teams from "back in the day" just didn't lose. From 1964 to 1976, the 13 national champions lost a combined 12 games. That's it, 12 games in 13 seasons.
From a personal perspective, I've rarely said over the past decade: "Wow, I can't see this team losing to anyone the rest of the season. And they're going to dominate next year too."
That's just how it is these days: upsets happen, parity happens, early-entry happens.
In the 1960s and 1970s, that simply didn't happen.
And that's why there's a clear difference between modern-era champions and the champions generally considered "the greatest of all time."

CBS Sports Network will be celebrating the 16 greatest college basketball teams of all time in the upcoming, four-part series, "16." Our CBS Sports panel of experts has voted, and on March 19 and 20, you'll be able to see which teams make up our list. You can help us celebrate your favorite team by sending us your tweets -- use the hashtag #CBS16 -- or leave your comments below. Then, look for your content as we'll work to incorporate the best submissions into the series.

You can also chime in on Facebook: Eye on College Basketball or CBSSports.com