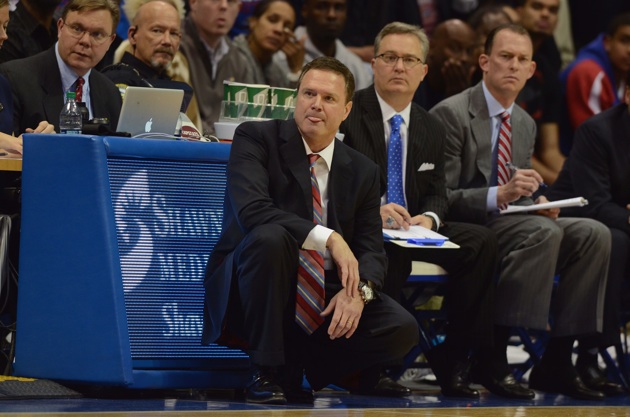 In a "rebuilding" year, Bill Self led Kansas to its eighth straight Big 12 title. (US Presswire)
Here's everything you need to know about Monday's slate of college basketball games … in a different format than usual to accommodate the less-than-stellar slate.
Eight in a row: Heading into the season, not many people had Kansas winning the Big 12. In what may have been Bill Self's best coaching job, though, the Jayhawks got better as the season went on and clinched the Big 12 regular-season title with a win at Oklahoma State on Monday night. It's not a vintage Kansas team, it doesn't have a lot of depth or a ton of offensive options – but Self has the Jayhawks in contention for a No. 1 seed. Unbelievable stuff.
Georgetown under the radar?: It's tough for a top-12 team to fly under the radar this late in the season, but if anyone fits that description right now, it could be Georgetown. The Hoyas just throttled Notre Dame on Monday night, locking the Irish down defensively and making plays at both ends of the floor. Because Georgetown has had some hiccups this season – double-digit losses to Seton Hall and Pittsburgh – the Hoyas might not get the attention they deserve.
Notre Dame needs to find its shot: The Fighting Irish are not the 3-point heavy team they've been in the past, but still, they're not playing well right now. They shot just 4-of-31 from deep against St. John's over the weekend and they didn't do much better on Monday, knocking down just 3-of-17 from behind the arc. Throw in the fact that Jack Cooley only had two points, and Notre Dame simply did not look dangerous.
Everything Baylor: I know it was only Texas Tech, but when Baylor plays like it did on Monday night, the Bears are still a pretty tough team to beat. Perry Jones and 15 points and 10 rebounds in only 27 minutes, while Anthony Jones, Quincy Acy and A.J. Walton also scored in double-figures in the 77-48 win. Turnovers were still a problem, but it was a reminder that Baylor – despite its weaknesses – still has a ton of talent.
17-0: Mississippi Valley State improved to 17-0 in the SWAC with its win over Jackson State on Monday night, led by Kevin Burwell's 30 points. The Delta Devils can finish the regular-season unbeaten if they beat Arkansas Pine-Bluff on Thursday.
MEAC race heats up: Savannah State stayed atop the standings with its win over North Carolina A&T, but Norfolk State remained only one game up after beating Florida A&M on the road. Delaware State dropped a one-point game at home to Morgan State, putting the Hornets out of the hunt.
March Madness comes early: The month of March technically doesn't start until Thursday, but conference tournaments kicked off tonight in the Big South. VMI and High Point both advanced, meaning Radford and Gardner-Webb are both headed home.
More College Basketball coverage