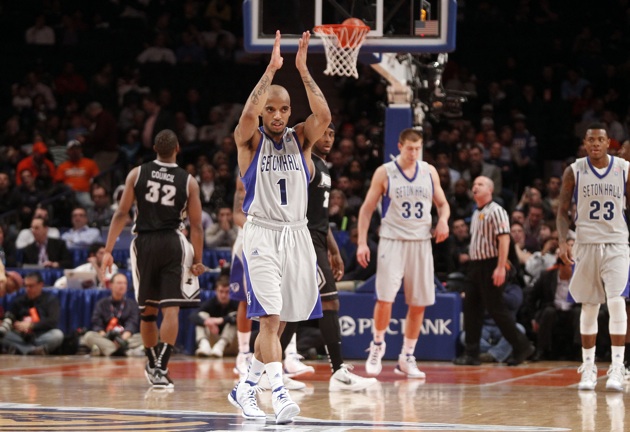 Seton Hall kept its at-large hopes alive with a dominant win over Providence in the Big East first round. (US Presswire)
It truly is do-or-die time for bubble teams. With a loss, they will be left to sit on the sidelines until Selection Sunday, anxiously awaiting the committee to announce their fate. With a win, they get to keep boosting the profile and also stay squarely in the forefront of the committee's collective mind. With the Big East and Atlantic 10 tournaments getting underway on Tuesday, several bubble teams have work to do.
Note: This page will be updated throughout the day, with bubble discussion and analysis.
Winners
Connecticut: The Huskies, with their quintet of top-50 wins and terrific strength of schedule, seem to still be in pretty good shape. What they couldn't afford, however, would have been a loss in the first round to DePaul. Jim Calhoun's troops obliged, cruising to an easy win over the Blue Demons. Connecticut improves to 6-8 away from home, which doesn't look as bad anymore. The Huskies will play fellow bubble team West Virginia on Wednesday. The winner will be locked in, the loser will sweat until the selections.

Seton Hall: The Pirates likely had to win two Big East tournament games to get into the NCAA tournament (or at least feel remotely comfortable about it), and they accomplished the first step of that task on Tuesday. Seton Hall overcame a slow start to throttle Providence over the last 20 minutes. Next up for the Pirates is a battle with Rick Pitino and Louisville. Can Seton Hall survive a loss there? Depending on what else happens around the country, they might not be able to. A win would certainly help.

Dayton: The Flyers still have a extremely strange profile, but they also have at-large hopes after taking care of business against George Washington in the first round of the Atlantic 10 tournament. In the quarterfinals, Dayton will get Xavier for the third time this season. It's a huge bubble game, as both teams need a win and neither team might be able to overcome a defeat. The Flyers have three very good wins over Temple, Saint Louis and Alabama, but four sub-100 losses makes things difficult.

Saint Joseph's: The Hawks have a lot of work to do in order to get an at-large bid, but they are still alive after holding off Charlotte in the second half. Next up is a rematch with St. Bonaventure, which beat Saint Joseph's last week and really hurt the Hawks' at-large hopes. If SJU wants to hear its name called on Selection Sunday, it needs to beat the Bonnies and then probably also beat Temple in the semifinals.

Harvard: The Crimson will not have to sweat it out on Selection Sunday, and they certainly won't have to sweat a one-game playoff on Saturday. Princeton beat Penn in the regular-season finale, meaning Harvard clinched the outright Ivy League championship for the first time since 1946. Harvard is going to the NCAA tournament.

Everyone else: With Harvard getting the automatic bid, there is no chance the Ivy League gets two bids to the NCAA tournament. For yet another time this season, it seems power conference teams on the fence are continuing to luck out. The bubble hasn't shrunk yet.

Losers

Proponents of mid-majors: As I mentioned in the prior sentence, the bubble hasn't shrunk yet. What that means is that we haven't seen the mid-major conferences get any extra bids as a result of a surprising tournament champion. We almost saw it happen in the Missouri Valley, where Creighton had to hold off Illinois State, while Murray State barely escaped Tennessee State in the Ohio Valley. Moreoever, with Penn losing tonight, there's no chance that both Harvard and the Quakers get a bid. Throw in the fact that Oral Roberts, Iona, Middle Tennessee and Drexel all lost in their conference tournaments, and we're on the path to seeing a plethora of middling power-conference teams get a bid -- and very few potential upset picks in the first round. It could make the NCAA tournament slightly less exciting on the first two days.
More College Basketball coverage