A year ago, Harvard lost to Princeton on a last-second shot in a one-game playoff.
It appeared as though the Crimson might again be forced to play a winner-take-all contest, this time against Penn. However, the Quakers lost Tuesday night at Princeton, which meant that Tommy Amaker's team will make its first NCAA appearance since 1946.
Harvard got an automatic bid rather than having to sweat it out on Sunday. The Crimson went 12-2 in the Ivy and had a couple of impressive wins this season - including a victory over Florida State back in November down in the Bahamas. But there were a pair of league setbacks to Penn and Princeton that put Amaker & Co. on the bubble.
Now Harvard is able to celebrate -- by studying for mid-terms on Tuesday night.
The Crimson are a balanced group.
Kyle Casey leads the team at 11.3 points per game. Senior big man Keith Wright is at 10.7 points and shooter Laurent Rivard is next at 9.7 points. The starting backcourt of Brandyn Curry and Oliver McNally combines to average a shade over 15 points per contest.
But that's what makes Harvard dangerous. These guys are unselfish, share the basketball and defend.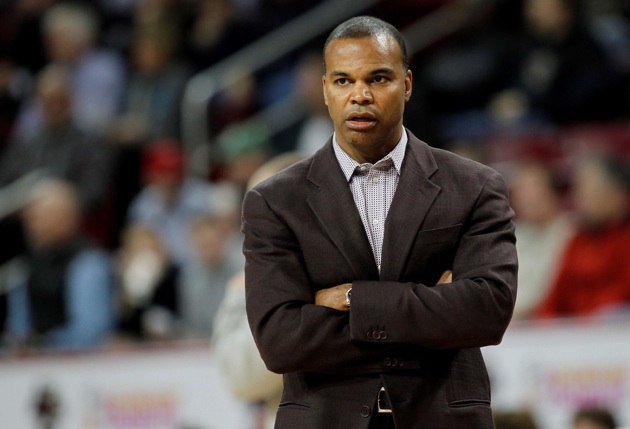 After losing in a playoff last season, Tommy Amaker steered Harvard to its first NCAA tournament since 1946. (US Presswire)
Player to know: Kyle Casey - The junior forward led a balanced team in scoring at 11.3 points per game and he's the most talented guy on the team. Athletically, he can match-up against guys from bigger leagues. Casey played much of last season with a broken foot, but he's healthy and finished the season averaging 15.5 points over the final four games.
The Vitals:
Record: 26-4 overall, 12-2 in Ivy
Most recent tournament appearance: 1946
We're thinking: 10 seed
KenPom ranking: 37
Sagarin ranking: 35
RPI: 43
Best wins: Florida State, St. Joe's
Worst losses: Fordham, Princeton
Notable stat: The Crimson earned its first national ranking in program history this season. Harvard was ranked No. 22 in the AP Poll at one time.
-- Jeff Goodman