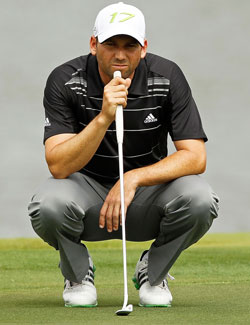 Sergio Garcia lines up a putt on Thursday. The grounds crew at the Doral Golf Resort painted the greens to make them look better on TV. (Getty)
By Steve Elling
DORAL, Fla. -- As the day began, the thrust of the conversation centered on how much green new owner Donald Trump would be spreading around Doral to spruce it up and make it look better.
Turns out, that general notion was discussed the night before, too.
In an attempt to make the resort's splotchy putting surfaces look better on television in the first round of the Cadillac Championship, the maintenance staff threw green paint on several greens, catching players off guard when they showed up for the first round on Thursday and found the course different than what they had seen in practice.
After Hunter Mahan chipped in for a birdie from beside the green on the 14h, he and caddie John Wood noted the difficulty of trying to gauge the various factors involved, like wind, slope, grain of the Bermuda grass, and the paint that partly obscured the latter.
"You can't really see the grain," Wood said.
Players and caddies judge grain by identifying dark and light patches, which indicate whether the putts roll up- or down-grain. The paint takes away some of that ability to distinguish between the color shades, and also can affect the speed.
As he stood behind the 18th green, Mahan noted several areas where patchwork had been done with strips or plugs of sod, and pointed out areas he suspected had been painted.
A PGA Tour media official confirmed that officials "added some color to all the greens for aesthetic reasons."

Check out the Eye on Golf Facebook page and follow Eye On Golf on Twitter.