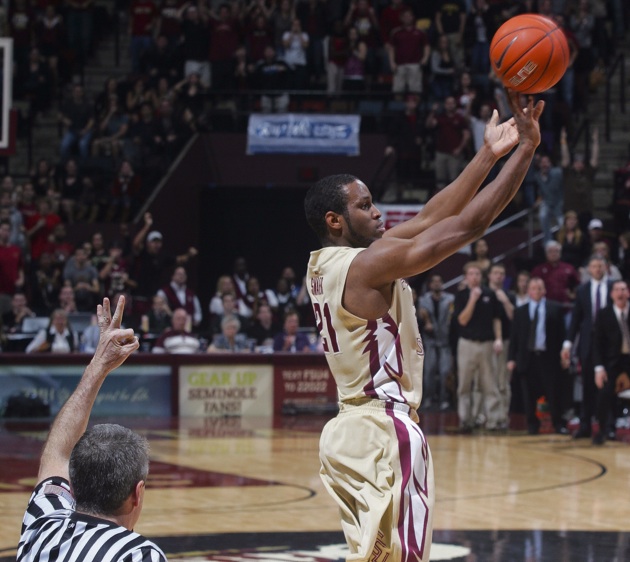 Florida State's Michael Snaer releases the game-winning 3-pointer against Virginia Tech. (US Presswire)
I'm back on duty for the Wakeup Call, but this is my last day for a while. I don't have any meme-like links for you guys, but I sincerely hope this Kim Kardashian/Jeremy Lin stuff isn't true. She and Carmelo Anthony are the only people who can stop Super Lintendo.
- First of all, thoughts and prayers go out to the family of New York Times reporter Anthony Shadid, who died from an asthma attack in Syria on Thursday. He won two Pulitzer Prizes and was one of the best foreign correspondents of his generation. Here's his obituary from the Washington Post, where he wrote for many years.

- Here was my reaction to the Bracket Busters when they were first announced; I broke down the top games, worst draws and all the noteworthy storylines. It works as a preview too.
- This one ended after Goodman posted Night Court: BYU's Matt Carlino hit a baseline shot with 21 seconds left to beat San Francisco, 85-84.
- In a major Pac-12 bubble battle, California outscored Oregon 21-10 down the stretch to pull out a three-point win.
- VCU is still an at-large long shot, but a win over Northern Iowa on Friday night would provide a nice boost heading into the final weeks.
- After Ole Miss' loss to Vanderbilt, teammates Jelan Kendrick and Reggie Buckner had to be separated in the tunnel. Kendrick had issues with this at Memphis.
- Reggie Johnson and Durand Scott each tweaked a knee against North Carolina on Wednesday, and underwent MRIs on Thursday.
- Chehales Tapscott is an awesome name by itself. Throw in the fact that his middle name is Centurion, and the Portland State guard takes it to a new level.
- John Ezekowitz looks at the top teams from this season and finds their best comparisons from past seasons.
- Illinois head coach Bruce Weber apologized on Thursday for the comments he made after the Fighting Illini's loss to Purdue.
- Tennessee suspended forward Kenny Hall indefinitely for "conduct detrimental to the team."
- This is from a couple of days ago, but Anthony Davis has closed the gap between he and Thomas Robinson in the Player of the Year straw poll. Jared Sullinger, Doug McDermott and Draymond Green round out the top five.
- "Go ahead and boo Verdell Jones. It's not like he hasn't heard it before. Tell the Indiana senior guard that he stinks, that he's a human turnover, that he belongs at some backwater college far removed from the Big Ten spotlight. He thrives on it."
- Kentucky is now a 2:1 bet to win the national championship.
- This is college football-related, but Sally Jenkins going HAM on Maryland football coach Randy Edsall was unbelievable.
- Bill Plaschke parachutes in and writes that Josh Smith has been a disappointment and will make an effort to get better for next season. We've heard this routine from Smith before.
Wake Forest signee Devin Thomas breaks a backboard after an alley-oop. Impressive.
Continuing the house music tradition of the past day, we're going with "So Much Love" by Fedde Le Grand. It's a good song – and the drop at 2:19 is sick – but this is more for the video. If you watch this and don't immediately get in the mood to party, you're nuts. Happy weekend.
More College Basketball coverage