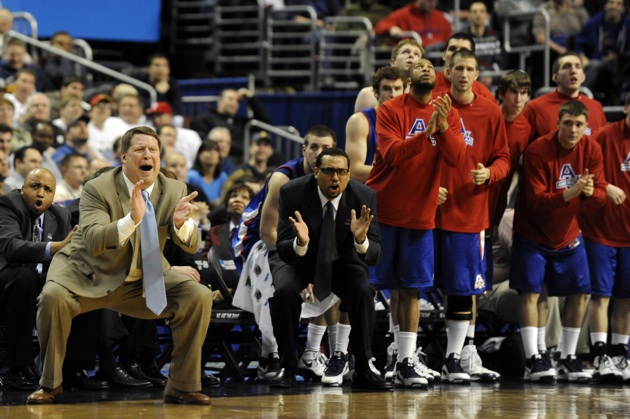 In our Trippin' series, we're talking to teams as they return from preseason trips to foreign locales. Click here for all Trippin' related stories.
After finishing second in the Patriot League title race last season, American head coach Jeff Jones knew he would be losing all-conference big man Vlad Moldoveanu.
What he didn't prepare for, however, was leading rebounder and No. 2 scorer Stephen Lumpkins leaving early after being drafted by the Kansas City Royals in June.
"We basically spent the spring thinking on how to play with Lumpkins as the center of attention," Jones said. "Playing big with Tony Wroblicky next to him. We went from being a fairly large team to being a smallish team, and we're going to have to figure out other ways. I'm not sure we have any choice."
The Eagles tried to work out the kinks on a preseason trip to Prague, Vienna and Budapest – but the lack of size didn't change. Jones isn't concerned about it, though.
"If you compete, once we get into conference play, that's not going to be a huge factor," Jones said. "I don't anticipate that being a huge issue."
What Jones learned: "We were figuring it out, essentially playing small ball. I learned a lot about how we are going to need to play this year to be competitive. Troy Brewer had a good year last year, and he picked up where he left off. He's going to be out offensive focal point. Charles Hinkle was our second-leading scorer, he showed he could be that complementary scorer."
What impressed him: Toughness – "We've got a scrappy group. We have two seniors, Simon McCormack and Joe Hill, that are competitive and team-first. They're great leaders. I think our team, we can already see that they're adopting their mentality. If we can do that, that would be a very positive development. If we can get in their heads and be able to emulate them, I think that would be positive."
What concerned him: Offensive production – "Graduating Vlad, losing Lumpkins and Nick Hendra, we lost a lot of offensive firepower. How do we replace those points? Troy can pick it up a little; Charles is going to be a secondary threat. But we're going to have multiple ways to score. We're going to have to be opportunistic, find non-traditional ways of scoring: offensive rebounds, transition baskets here and there."
- Although former Georgia guard Brewer looks like he will be the top option, Charles Hinkle is also expected to carry his weight offensively. The former Vanderbilt transfer looks like he is ready to provide what was expected heading into last season. "I think it was a really positive experience for Charles, to get out there, to get lots of minutes," Jones said. "He has to shoulder some responsibility, and we need him to score."
- Freshman John Schoof impressed on the trip. "He's the kind of kid who's going to fit in, he does a lot of the little things," Jones said. "He was a quick learner; we started him every game overseas. As he gains experience, he's going to be one of those guys you want out there on the floor, regardless of stats."
- Aside from Schoof experiencing soreness in one of his knees, there were no injuries on the trip.
- The entire team was able to go on the trip, which enabled Jones to mix-and-match different players in the lineup. "We started different guys every game for the most part," Jones said. "It was good in that regard, getting everybody's feet wet. Gave us a little bit of a jump start."
- The Eagles went to three different cities, and spent at least one full day of sightseeing in each one. According to Jones, one of the funniest moments was when Australia native Daniel Fisher bought a pair of pants. "Let's just say he looked very European," he said. "But he's from Australia, so his sense of fashion might be a little bit different."
CBSSports.com's list of teams taking preseason trips
Photo: US Presswire